Tiger Woods returned to the links Saturday for his first taste of competitive action since the car crash that left him with severe leg injuries nearly 10 months ago, and he came away through 18 holes of play with a shot at a weekend win at the PNC Championship. Paired with his son, 12-year-old Charlie Woods, the two turned in an opening-round 10-under 62 at the 36-hole event in Orlando, Florida, putting them three strokes off the lead heading to Sunday. 
The Woods duo dashed their way onto the scene in the last flight to tee off Round 1, but they wasted no time making their presence known in the event. It was Charlie who really kicked things off on No. 1 by dragging Team Woods to the green, first with his drive and then with his approach, then Tiger — as ever — closed it down with a putt to open the weekend with a birdie. 
That was part of a four-birdie front-nine flush with highlights as the younger Woods stepped up in big moments to keep Team Woods in the mix. In a putt and subsequent celebration eerily similar to his father, Charlie drained a long birdie putt on the fourth — part of a four-birdies-in-five-holes start — while Tiger looked on.
That much was a theme on the back nine as well as they added another six birdies down the stretch, including another long putt on No. 15 from Charlie to close a birdie-birdie-birdie run. 
"It's nice having a partner who can hit drives like he did and make a few putts," said Tiger on Golf Channel after the round, calling the experience "awesome."
"I'm tired," he added. "I'm not in golf shape. It's just like anything: if you don't have the endurance, you start slowing down."
Sunday figures to shape up for a fun finish at the PNC Championship with Team Woods on the chase behind leaders Stewart and Reagan Cink. Team Thomas — the duo of World No. 6 Justin Thomas and his dad, Mike — are also in the hunt at 12 under along with John Daly and his son, John Daly II. 
You can have a look at the full leaderboard through Round 1 below. 
Pinned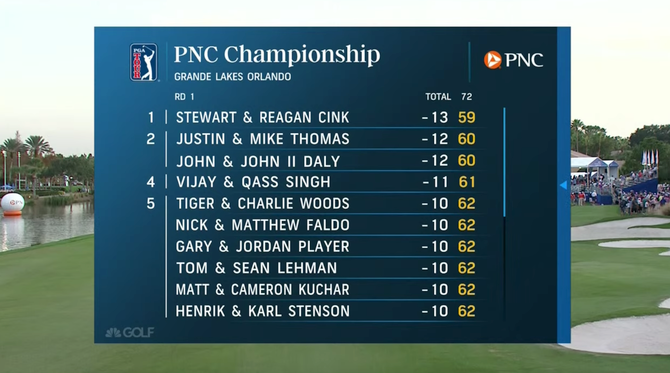 Tiger and Charlie Woods are in the clubhouse with an opening-round 10-under 62. That puts them T5 on the leaderboard and three strokes off the lead held by Stewart and Reagan Cink. 
See New Posts
Pinned
Pinned
Pinned
Pinned
Pinned
Pinned
We're on to No. 18 for Tiger and Charlie, who have had themselves a pretty stellar showing thus far. Very much have a chance to close with birdie on the par 5 18th. They are 9 under on the round. 
Pinned
Pinned
Charlie Woods just buried a birdie putt on No. 13 for Team Woods to get them to 7 under on the round. That puts them inside the top 10 on the leaderboard for the day with two prime scoring opportunities on deck left, with par 5s at 14 and 18. 
Pinned
Pinned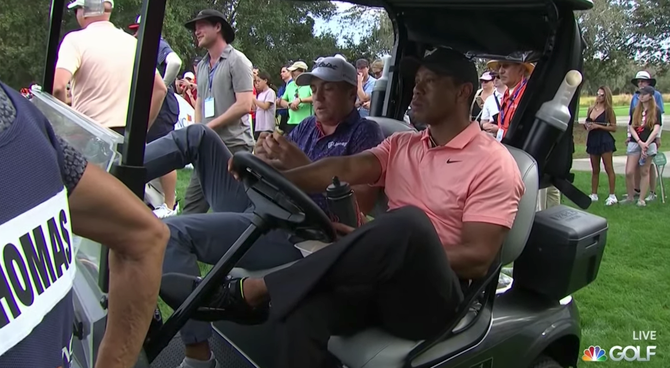 Pretty cool grab from just now on the Golf Channel broadcast. JT jumped into Tiger's cart to get a little food pick-me-up as they barrel towards the finish line from Round 1 today. Facing off against each other but obviously not exactly a major-like atmosphere today. Very cool to see, and a really fun way for Tiger to jump back into the golf scene in some way.
Pinned
Pinned
Pinned
Tiger and his son, Charlie, are 5 under on the day as they head to the 11th tee box. Pretty good outing so far. Has them T12. And they were the last bunch off today. 
Pinned
Pinned
Pinned
Pinned
Pinned
Pinned
Pinned
Pinned
Tiger Woods is off the No. 1 tee in the first hole of action at the PNC Championship. Same smooth stroke. Playing 387 from where he teed off but only 330 from where his son, Charlie, is playing. And Charlie smashed it right down the middle. 
Pinned
Pinned
Pinned