13 min ago
Curling still going strong, almost 500 years on
From CNN's Ben Morse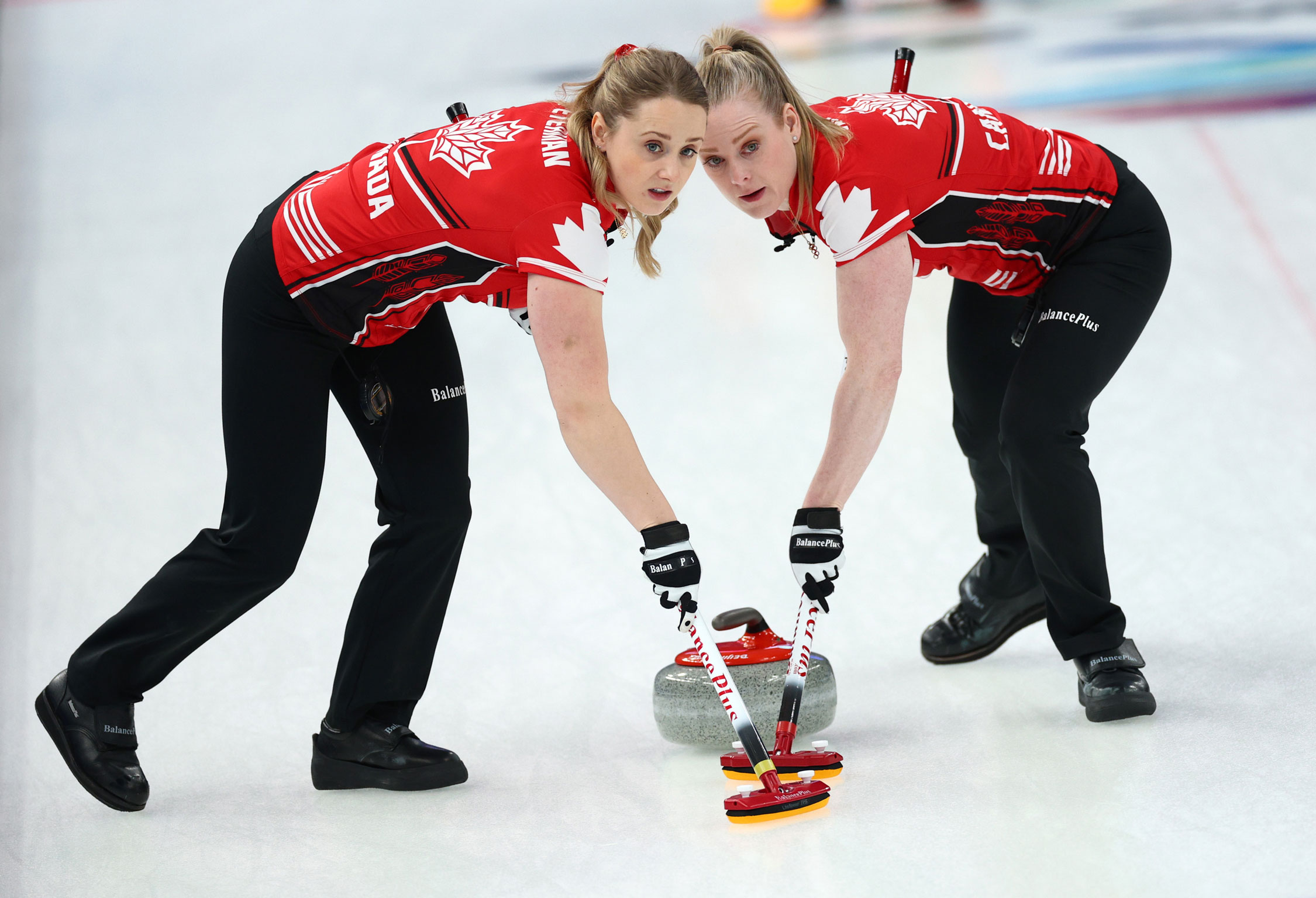 Although its exact origins can't be accurately traced, curling is a sport believed to have originated in the 16th century.
Paintings from Flemish artist Pieter Bruegel appear to portray an activity similar to curling being played on frozen ponds.
In 1540, John McQuhin — a notary in Paisley, Scotland — appeared to produce the first written evidence of curling.
Written in Latin, McQuhin recorded in his book a challenge between John Sclater, a monk in Paisley Abbey, and Gavin Hamilton, a representative of the Abbot. It said that Sclater threw a stone along the ice three times and asserted that he was ready for the agreed contest.
While an exact date can't be pinpointed, according to the World Curling Federation, the sport was played during its early stages on frozen lochs and ponds in northern Europe.
It became popular across the world as emigrating Scots introduced curling to countries with similar climates.
The first official rules of curling were drawn up in Scotland and adopted by the Grand Caledonian Curling Club — which became the sport's governing body — in 1838.
The Club was renamed to the Royal Caledonian Curling Club in 1843 after Queen Victoria took a liking to curling after a demonstration on the ballroom floor of Scone Palace.
Although international curling matches have been recorded since the 19th century, the first official international matches took place at the first Winter Olympics in 1924 in Chamonix, France. Great Britain defeated Sweden and France in what was retroactively accepted as curling's Olympic debut.
Curling was also a demonstration sport at the 1932 Winter Games, and later on in 1988 and 1992. This designation meant the sport wasn't played for medal competition.
It wasn't until 1998 that the International Olympic Committee granted medal status to men's and women's curling. It was introduced to the Winter Olympics in Nagano, Japan and has gone on to be a popular inclusion to the Games.
Read the full story here.
1 min ago
Norway dominates the ROC to win gold in the men's team pursuit
From CNN's Matias Grez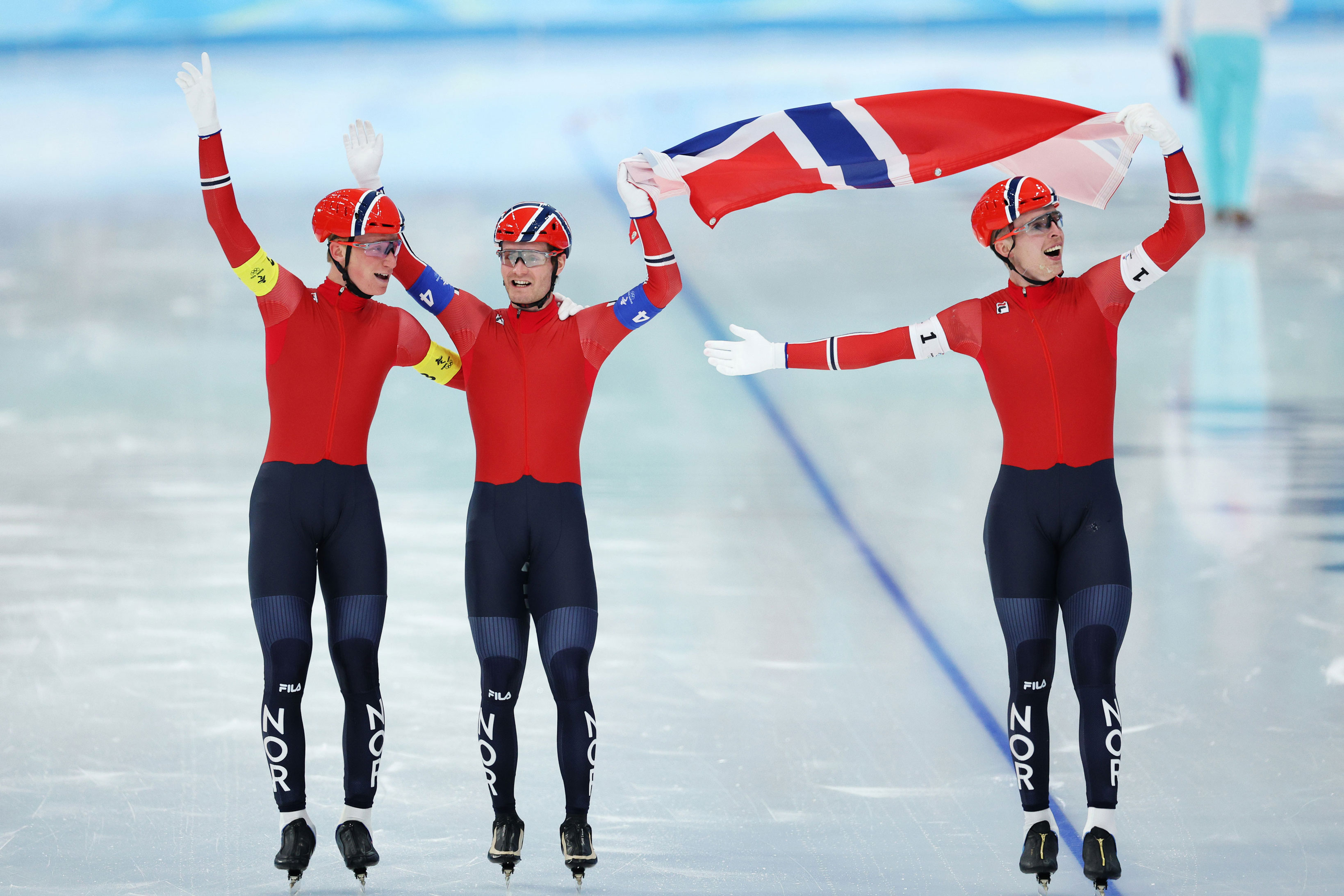 Norway completely dominated the men's speed skating team pursuit final, leading the Russian Olympic Committee from start to finish to win gold.
The Norwegians opened up a 0.26 second gap over their opponents in the opening lap and it was a lead they never looked like relinquishing, eventually finishing a whopping 2.27 seconds clear.
Afterwards, the team expressed their elation and relief for their achievement.
"It is a lot to take in, it's incredible. It is what we have worked for together with this team," said Peder Kongshaug.
Hallgeir Engebråten added, "It's everything. It is something special to take a gold medal with the team. We have had our ups and downs. To be able to stand here as a trio, as Olympic champions, that's just amazing."
"It means everything. I had a hard summer with almost no training (from a bike crash in May 2021)," said Sverre Lunde Pedersen. "To be here with a gold medal, it's hard to describe. Russia beat us pretty well in the semifinal. Our plan was to go for it and it worked. We skated faster in the final. It was perfect."
It's Norway's 11th gold medal of Beijing 2022, cementing the country's place at the top of the medal table.
In the B Final, the US beat the Netherlands to take the bronze.
1 hr 7 min ago
Su Yiming: No hard feelings over "Hand of God" judge error that cost him slopestyle gold
From CNN's Jack Bantock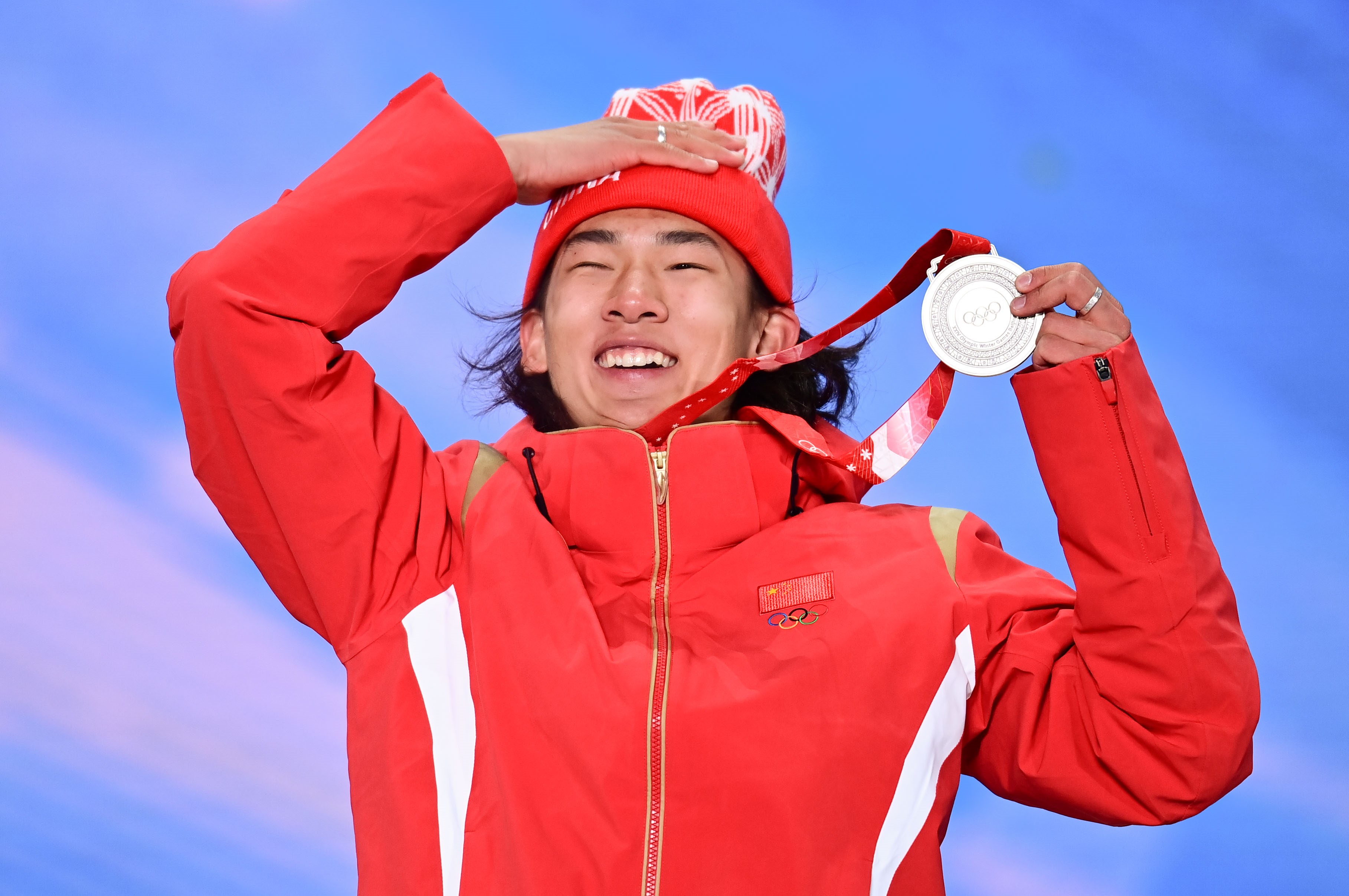 Chinese snowboarder Su Yiming said there's no controversy after the head judge for Olympic snowboarding admitted to missing an error made by eventual slopestyle gold medalist Max Parrot.
The 17-year-old Su won silver in the event last Monday but could have left with gold had judges not missed Canada's Parrot grabbing his knee — rather than his board — during a jump on his pivotal second run.
In an interview with snowboarding website Whitelines the following day, head judge Iztok Sumatic explained that the judges did not see a camera angle that clearly showed the mistake and — "pushed for time" — put the scores up.
Having only seen the angle TV viewers saw after the score had been processed, Sumatic likened the situation to the infamous Diego Maradona 'Hand of God' goal against England at the 1986 FIFA World Cup.
Sumatic admitted that the scores would have been "different" had the error been seen, but maintained that Parrot still showcased an "insane run" regardless of the controversial jump.
Speaking after his big air gold medal triumph on Tuesday, Su said there "has been no controversy" following the slopestyle incident.
"We [Parrot and I] came to the Olympic Games out of our same passion for snowboarding. I know he is also quite hardworking, and I respect him a lot.
"I would like to congratulate him on his gold medal in the men's snowboard slopestyle and today's great result (bronze). I'm happy for both of us."
Su's big air win saw him become his country's youngest Winter Olympic champion and secured China's sixth gold of Beijing 2022 — already topping their previous record of five at Vancouver 12 years ago.
"I had many dreams when I was a child," Su said. "To be an Olympic champion was one of them, and today, I already realized my dream.
"There will be more and more challenges in the future. I will be more concentrated on my goals. All I need to do is to deliver all my efforts to achieve my goals."
34 min ago
Canada wins dramatic speed skating gold after Japanese crash
From CNN's Matias Grez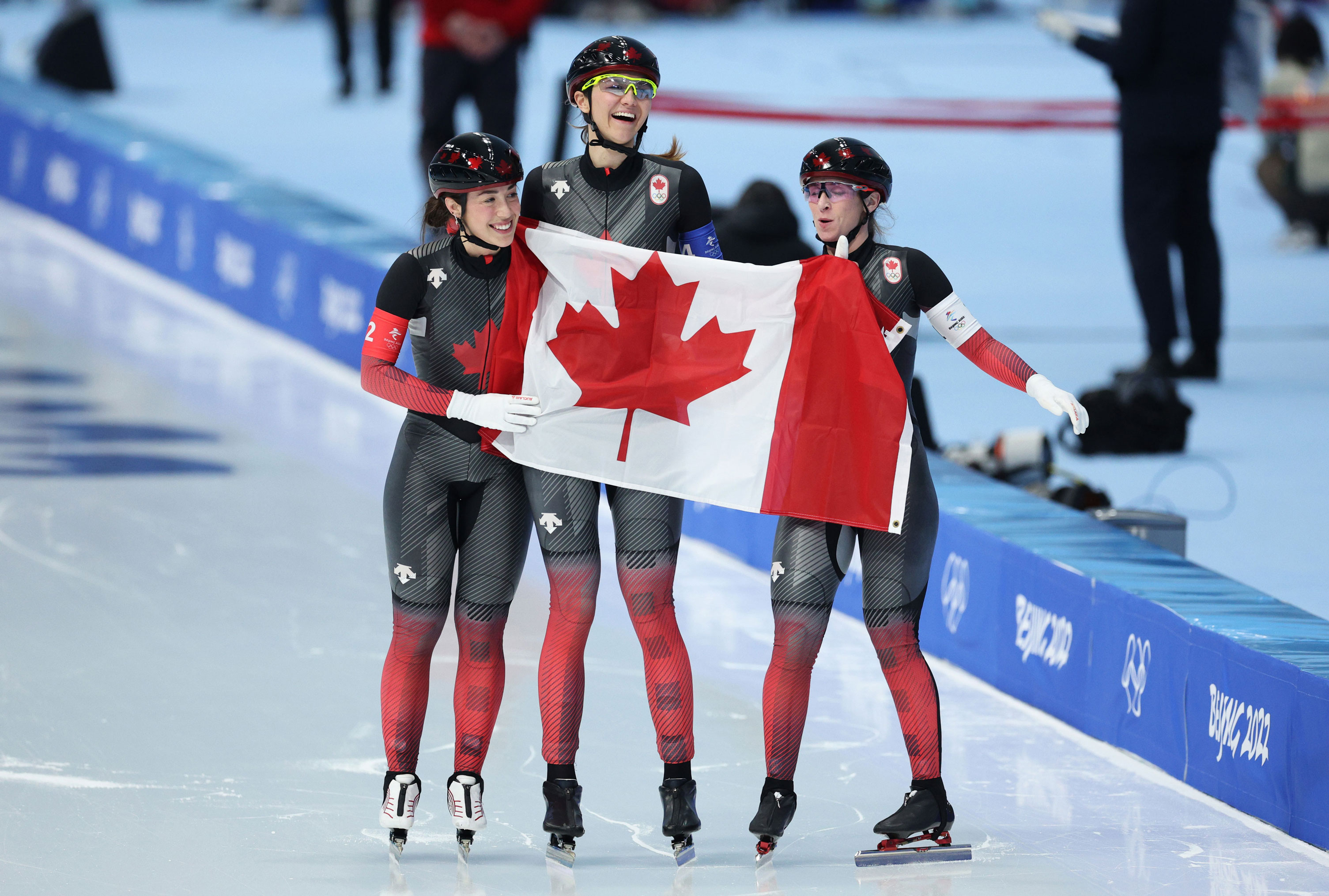 Canada won the women's speed skating team pursuit in dramatic fashion, as a Japanese skater slipped and crashed on the final corner with her team leading.
Japan were ahead by 0.32 seconds going into the final half-lap and seemingly on course to be crowned Olympic champions, but Nana Takagi got one of her blades caught in the ice, causing her to fall and slide into the barriers.
With the clock only stopping when the third of the three skaters crosses the line, that meant Canada snatched the gold medal at the very last moment and broke the Olympic record in the process.
"It feels really surreal right now. There is such high emotion. Going into the race we wanted to make ourselves proud," Valerie Maltais said. "We didn't want to put pressure on ourselves, it is a privilege to be in this final. Coming across the line, I just couldn't believe it."
Isabelle Weidemann added: "We are still thinking, is this real? We knew we had a strong team, we knew we could put pressure on Japan and all the other strong teams today. I don't know if we'd thought about this possible outcome."
As the shocked Canadian skaters celebrated their victory, the three Japanese skaters — Takagi in particular — were inconsolable on the other side of the track.
In the B Final, the Netherlands — who would have been expecting to reach the A Final and compete for gold — beat the Russian Olympic Committee to win bronze.
52 min ago
Norway wins gold in men's biathlon relay
From CNN's Adam Renton and Patrick Sung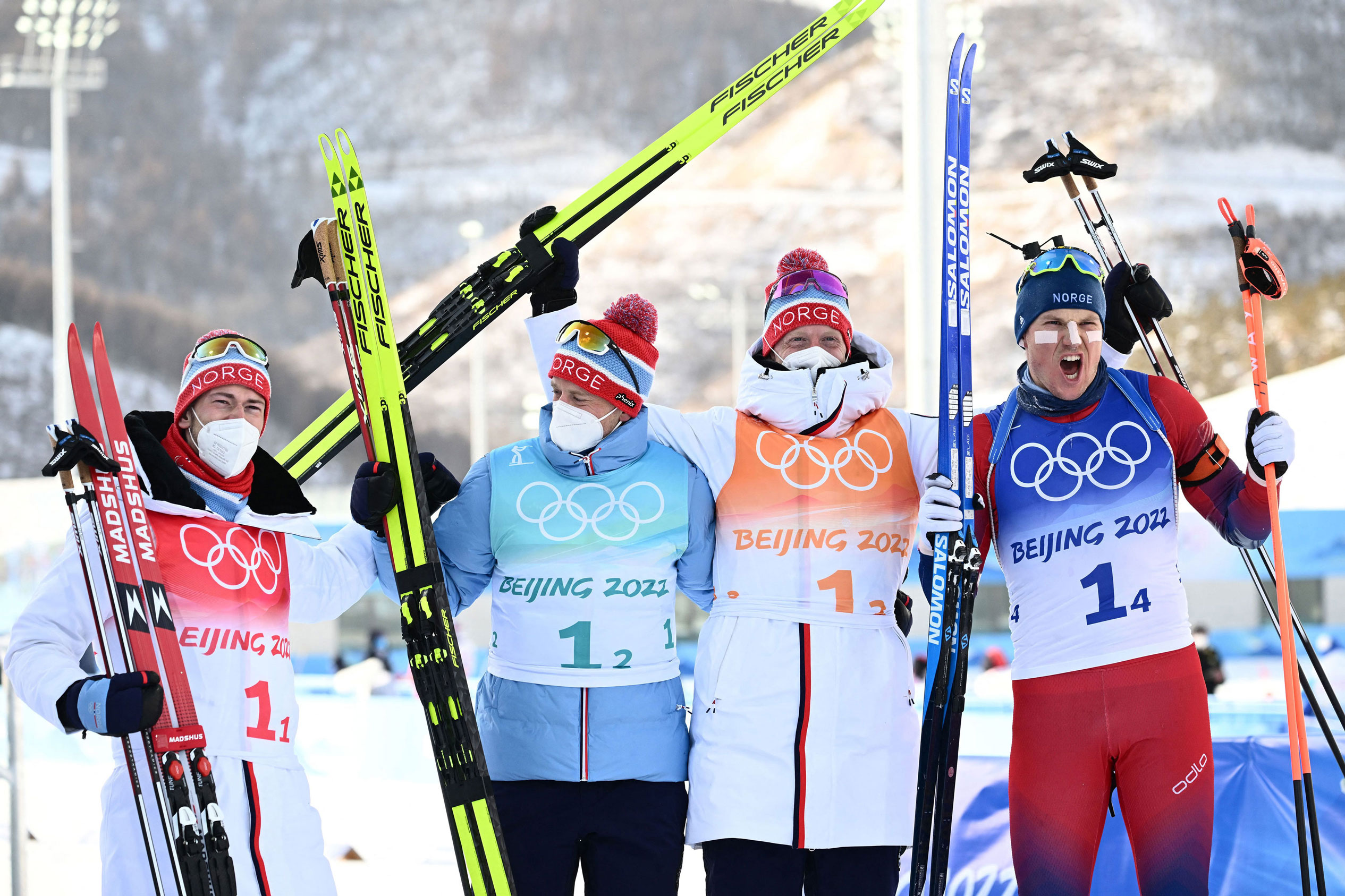 Norway won gold in a dramatic finish in the men's biathlon 4×7.5km relay on Tuesday, with a time of 1:19:50.2.
The Russian Olympic Committee (ROC) looked primed to take gold after taking a commanding lead in the race but Eduard Latypov missed four of his five shots to end their gold medals hopes.
"I am also disappointed and I ask for forgiveness that this happened. We fought for the gold and we were not able to do it," Latypov told reporters after the race. "We all wanted it and the guys did everything that they could to achieve this and on my leg, it did not work out."
Latypov's costly slip-up allowed Vetle Sjåstad Christiansen to swoop in and claim the win for Norway.
"It was such high pressure. It was the perfect race for me. I was completely blacked out or I don't remember anything, but I woke up and we'd won the gold medal," Christiansen said.
"It didn't look so good after 50% of the race, but anything was possible at that point," Norway's Tarjei Bø said after the race.
Sturla Holm Lægreid's poor first leg looked to take Norway out of gold contention, but Latypov's mistakes allowed for redemption.
"It's been very emotional. When you think you messed up the relay and the gold is out of reach and you just wish you gave it your best and when you know you're performing at the lower level, it's just very hard — especially in the Olympics, when you're disappointing your teammates," Lægreid said.
"But when it was gold in the end, I was just so happy and I couldn't hold my tears back."
With France's silver, Quentin Fillon Maillet makes history as the first biathlete to win five medals in a single Games. According to Beijing 2022, he is also the first male Winter Olympian to win five medals in a single Games since Lake Placid 1980.
The Russian Olympic Committee clinched bronze.
2 hr 52 min ago
IOC official: Kamila Valieva blames doping violation on a mix-up with her grandfather's medication
From CNN's Hannah Ritchie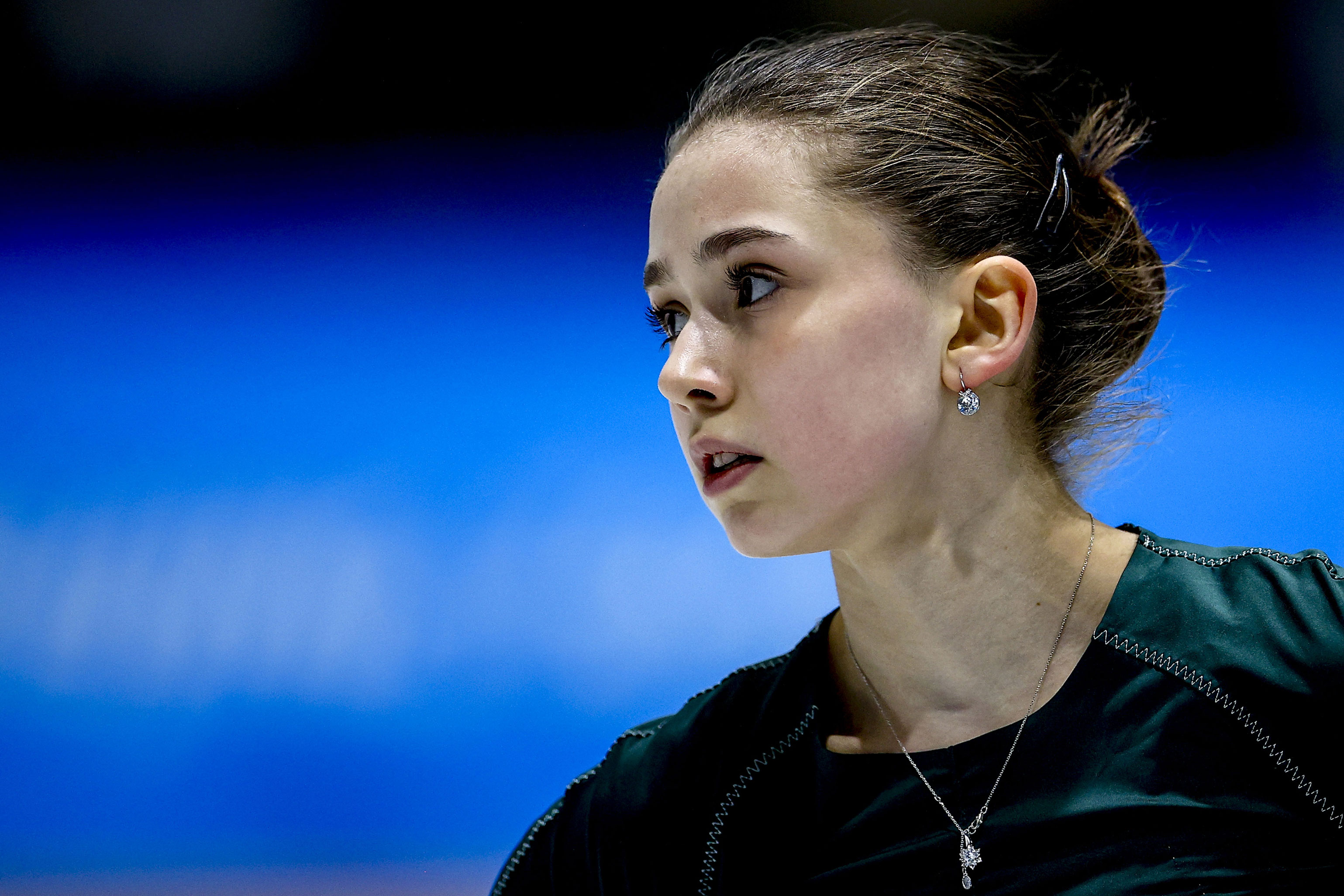 Russian teen figure skating sensation Kamila Valieva has blamed her positive drug test on a mix-up with her grandfather's medication, a top International Olympic Committee (IOC) official said Tuesday.
"Her argument was that this contamination happened with a product her grandfather was taking," said Denis Oswald, head of the IOC's Disciplinary Commission.
Oswald clarified he was not present Monday at the Court of Arbitration for Sport (CAS) hearing on Valieva's case. 
The IOC, International Skating Union (ISU) and the World Anti-Doping Agency (WADA) had appealed a decision by the Russian anti-doping agency to lift a suspension on Valieva competing after she tested positive for a banned heart medication in December.
The CAS decided to allow the 15-year-old figure skater to continue competing at the Olympics.
Trimetazidine, the drug Valieva tested positive for, is used to treat people with angina. It is listed in WADA's 2021 prohibited substances under the category of "hormone and metabolic modulators."
The IOC has made it clear Valieva's case — and the people surrounding her — will continue to be investigated long after the Olympics closing ceremony.
3 hr 23 min ago
Beijing reports one new Covid-19 case among Games-related personnel 
From CNN's Gawon Bae
The Beijing Olympic Committee identified one new Covid-19 case among Olympics-related personnel on Monday, it said in a statement Tuesday.
The new case involved an Olympic stakeholder already inside the "closed loop" system, which keeps Games-related staff and athletes separated from the public.
In total, 433 Olympics-related Covid-19 cases have been reported since Jan. 23, including 183 athletes and team officials who have tested positive.
3 hr 26 min ago
Su Yiming's gold medal ensures China's best ever Winter Olympics haul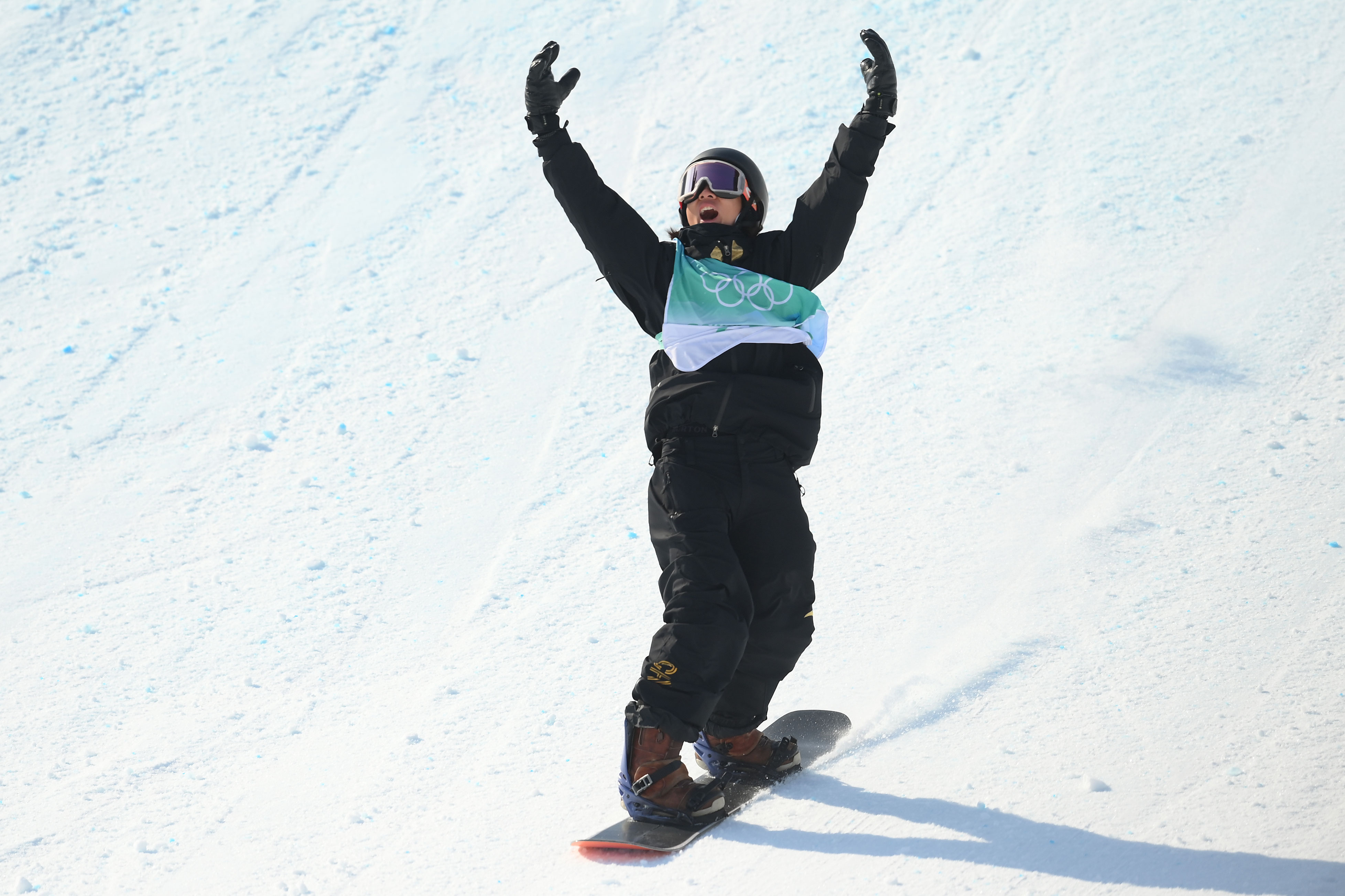 Teen snowboarder Su Yiming of China won gold in the snowboard big air on Tuesday, adding to his silver medal in the slopestyle event last week.
Su's gold is China's sixth of the Games and means the hosts are now enjoying their most successful Winter Olympics, beating their previous record of five golds at Vancouver 2010.
Age 17, Su is China's youngest Winter Olympic champion.
Fans took to Chinese social media following his historic win. The hashtag "Su Yiming must be able to fly" trended on the Twitter-like Weibo with nearly 50 million views, and "Su Yiming gold medal" is the No.1 trending topic, with 130 million views.
Su's gold will be even more satisfying after he controversially missed out on top spot in the slopestyle, after judges missed an error from winner Max Parrot that could have impacted the final results.
Before he became a snowboarding sensation, Su was better known in China as a child actor, having starred in the 2014 film "The Taking of Tiger Mountain" by Hong Kong director Tsui Hark, alongside superstars including Tony Leung.
3 hr 24 min ago
Investigation into Kamila Valieva's failed drugs test is ongoing, IOC official says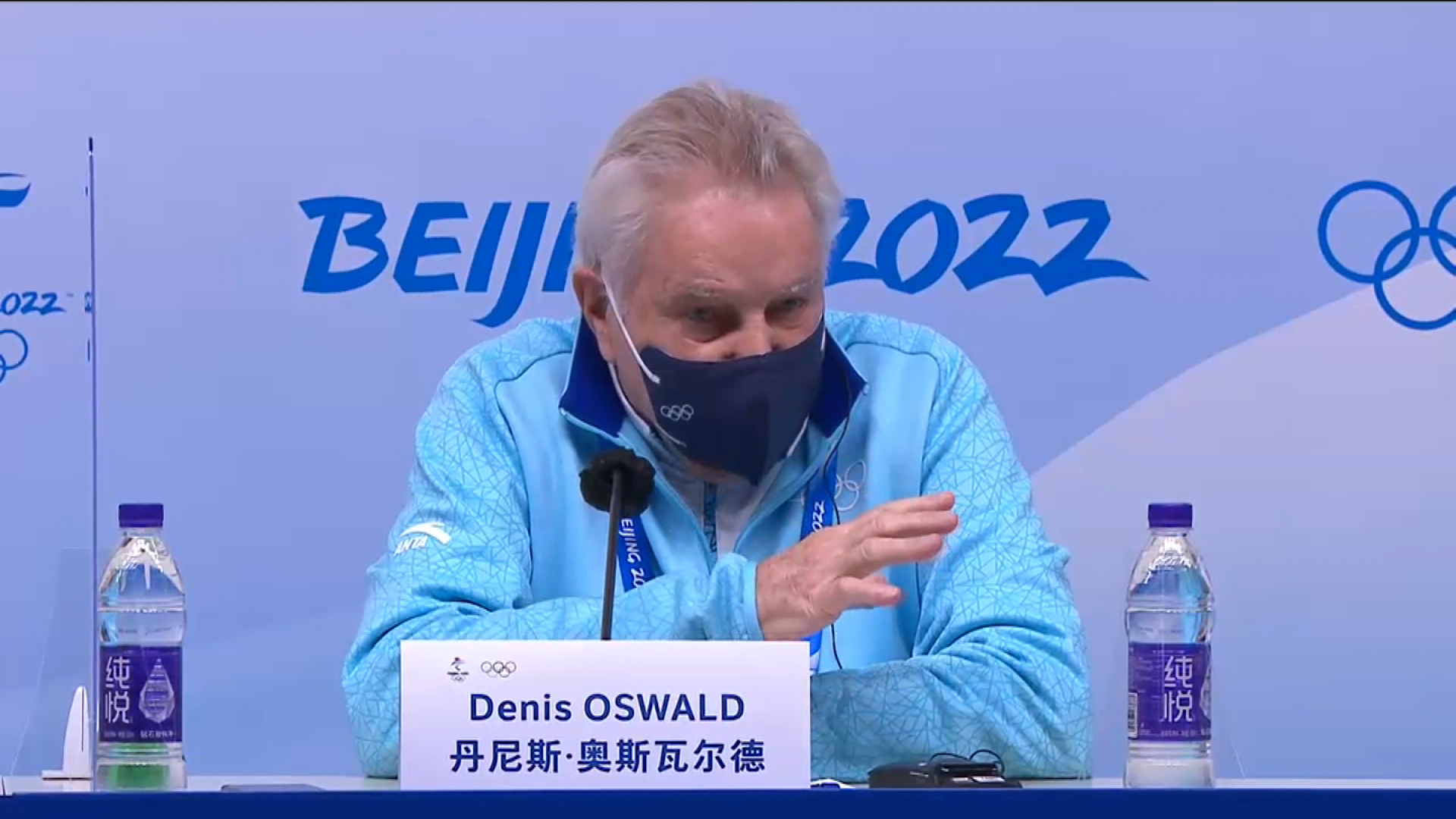 The drug case against Russian teen figure skater Kamila Valieva is ongoing and a final decision has not been made on its merits, a top International Olympic Committee (IOC) official told reporters Tuesday.
"We are in a phase of provisional measures. The question is whether she could continue. The case is still pending," said Denis Oswald, head of the IOC's Disciplinary Commission.
"The B sample has not yet been examined by the laboratory, and therefore, a ban — which would not certainly be a life ban — would only be decided when we have a final decision on the case itself, whether it is doping or not."
Oswald said the 15-year-old's entourage — the adults responsible for Valieva's skating and welfare — will be investigated.
"You can imagine a girl of 15 would not do something wrong alone," he said.
Celebrations on hold: The medal ceremony in the team figure skating event was postponed due to the scandal, and the IOC has said if Valieva wins another medal in her upcoming program then she would not receive it until the drug case has been concluded.
"It would be very difficult to allocate medals based on a situation that is not final because there is a fair chance you would not give the right medal to the right team, which is why we decided, while we do not have clarity on the case, not to attribute medals," Oswald said.