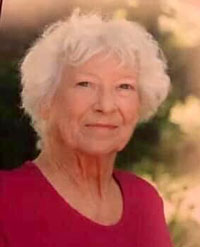 Bonham, Texas — A celebration of the life of Letha Joyce Barber Walker, 87, of the Sandy Community in Fannin County, Texas will be held Saturday, December 18, 2021, at 11:00 a.m. at the Cooper-Sorrells Funeral Home Chapel in Bonham, Texas.  Bro. Ronnie Ball will officiate.  Burial will follow at the Sandy Cemetery in Ravenna, Texas. Letha passed away at the home of her daughter and son-in-law, Lisa and Cameron Dasso, in Fort Worth, Texas.
Letha was born on November 17, 1934, in the Angel Flat Community in Fannin County, Texas to Chester Austin Barber and Ruby Caldwell Barber.  Her early education was at the Sandy School until it consolidated with the Bonham Independent School District at the beginning of her 7th grade year.   She graduated from Bonham High School in 1952 and in June of that year, she married the "boy next door", Wayman Johnson Walker, in Rockwall, Texas.   They had been married 56 years at the time Wayman passed on November 3, 2008.
Letha's first job was at Sitzler's Florist Shop during her senior year at Bonham High School.   While Wayman was away in the Navy during the early months of their marriage, she worked as an office assistant at Bailey Inglish, working for Principal Thad Finley.  Little did she know that 13 years later, she would return to Bailey Inglish to work again for Mr. Finley.   During her 33 years at Bailey Inglish as school secretary, she worked for not only Mr. Finley, but also for Principals Joe Campbell, Don Manhart and Carol Romans.  The last two years of her career were spent at Finley-Oates working for Principal Linda Staton.  She loved her "school family' and cherished the memories from those years at Bailey Inglish.  After seeing thousands of children pass through the halls at Bailey Inglish and 35 years of service to the Bonham Independent School District, she retired.
Following her retirement, she enjoyed spending time in her yard with her flowers, trips with her sisters-in-law, Merle Walker and Sheala Walker, and friend Joyce Hamby.   She also was a longtime member of the After Work Garden Club and served on the boards of the Child Protective Services and the Fannin County Credit Union.
 
Most important were her faith and her church.   She joined the Sandy Baptist Church on July 8, 1951 and had been a member for 70 years at the time of her death.   During most of those years, she served in multiple roles as church pianist, Church Secretary, Sunday School teacher, Training Union teacher, Vacation Bible School principal and teacher.   While she was still physically able to do so, she assisted a number of years in preparation for the Women's Conference held each year at the Boyd Baptist Church.   She was also our family prayer warrior and thousand of prayers were lifted up over the years for her family and friends.  
Letha is survived by her children, Pam Walker Durham and Vic Durham, Lisa Walker Dasso and Cameron Dasso, and Tim Walker and Sharon Walker; grandchildren Chris Durham and Lauren Durham, Nick Durham, April Bayonne and Jason Bayonne, Clint Williams, Michael Dasso, Kyle Dasso, Hunter Walker and Amanda Walker,  Heather Sears and Kyle Sears, Haley Krebs and Benjamin Krebs; great-grandchildren Walker Durham, Davis Durham, Berit Durham, Ashleigh Durham, Colton Williams, Nehemiah Bayonne, Aidan Connell, Ethan Walker, Dylan Walker, Hudson Walker, Landyn Reaves, Melanie Sears, Clara Sears, Drake Krebs, and Brooke Krebs due in February 2022.  She is also survived by sister-in-law Merle Walker, close friend Joyce Hamby, her church family at Sandy Baptist Church, her Bailey Inglish family, nieces and nephews, and cousins.
Visitation will be held one hour prior to the service, 10:00 a.m. to 11:00 a.m., at Cooper-Sorrells.
Pallbearers will be grandsons and honorary pallbearers are Blanton Hanes and Don Manhart.
In lieu of flowers, the family asks that donations be made to the Sandy Cemetery Association, c/o Matt Curry, 2052 CR 2040. Ravenna, TX   75476.
To convey condolences or sign the online registry, please visit www.coopersorrells.com.