New York's healing mountain village
(Image credit:
DenisTangneyJr/Getty Images
)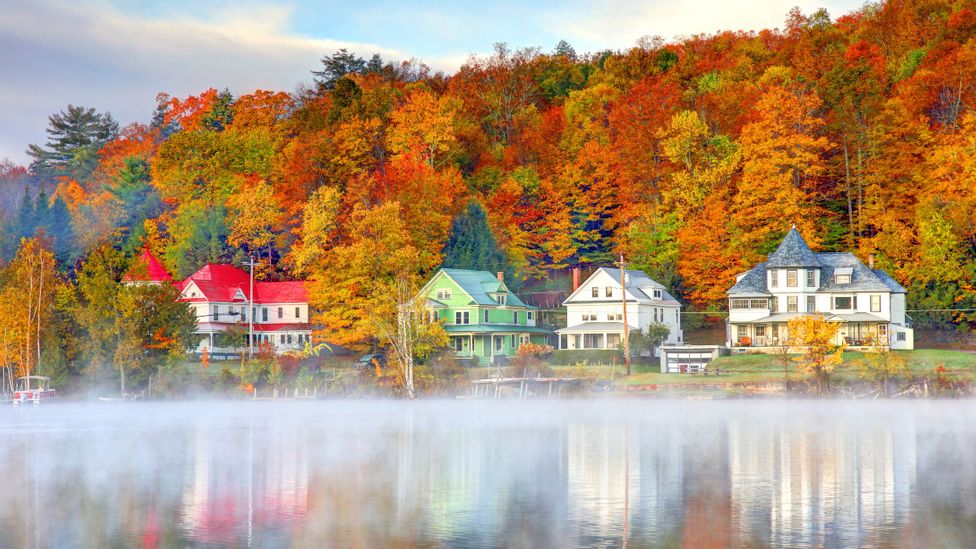 Around 150 years ago, the upstate New York village of Saranac Lake became home to people looking for a cure to a highly contagious disease. Today, its healing legacy lives on.
E
Each winter in the upstate New York village of Saranac Lake, a shimmering fortress of ice rises above the shore of Lake Flower. Built block by block by volunteers from ice harvested from the frozen lake, the Ice Palace is the centrepiece of the 10-day-long Saranac Lake Winter Carnival, an annual event that lifts spirits and draws visitors during some of the North Country's darkest and coldest days.
One of the oldest events of its kind in the United States, the carnival has been providing levity in the depths of winter for more than a century. But, like the village itself, its history was shaped by disease and suffering.
Take a walk around Saranac Lake and you'll notice its density of Victorian-style homes with long porches. From the late 19th- through mid-20th Centuries, these porches would have been occupied, year-round, by people bundled up in blankets taking in the cool mountain air. But they weren't there just for a holiday. By resting on the porches of those homes, known as "cure cottages", they were hoping to treat their tuberculosis through the "fresh air cure". Today, the carnival, which was created to provide distraction for those patients, and the cottages (dozens of which are listed on the National Register of Historic Places) are reminders of the tuberculosis (TB) industry that took root in Saranac Lake and helped to build the village.
In 1873, Dr Edward Livingston Trudeau was diagnosed with TB, a highly contagious disease with no known cure that was then killing one in seven people in the United States. Trudeau left New York City for Saranac Lake, 300 miles north in the Adirondack Mountains. "[Trudeau] wanted to get out of the city and just go somewhere peaceful… really expecting to die," said Historic Saranac Lake executive director Amy Catania. While in Saranac Lake, however, Trudeau found that his health improved. It seemed there was something in the air.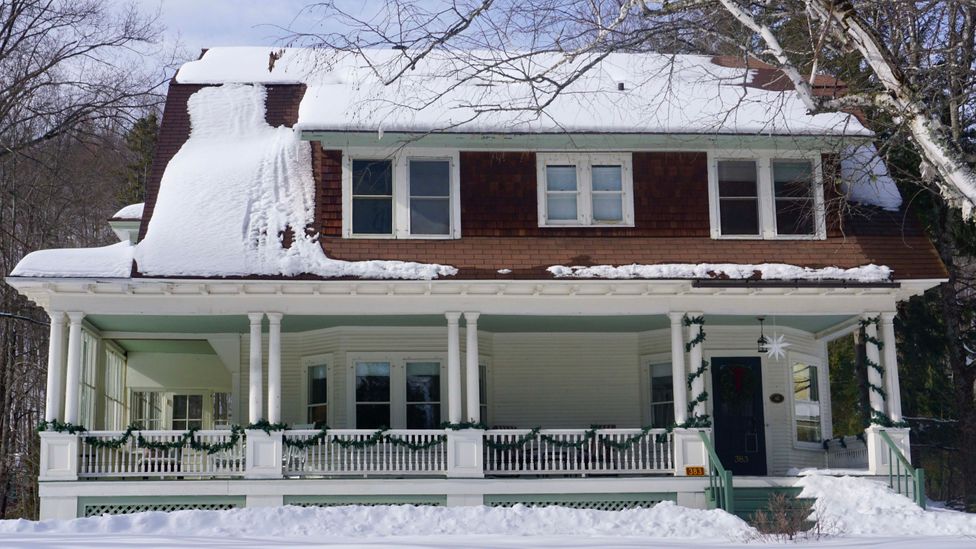 Saranac Lake's "cure cottages" were private sanatoriums for people recovering from TB (Credit: Karen Gardiner)
"He had this experience of going back to the city and getting sick again [then] coming back to the Adirondacks and feeling well," said Catania. "He came to believe there was something about being in the fresh mountain air that was important."
In 1876, Trudeau permanently moved his family and medical practice to Saranac Lake and began treating the increasing number of wealthy New Yorkers who, suffering from TB, fled their crowded city for country retreats in the Adirondacks. A few years later, in 1884, Trudeau established the Adirondack Cottage Sanitarium (later renamed the Trudeau Sanatorium) with the goal of providing care to those who could not afford it otherwise.
A year after publishing Strange Case of Dr Jekyll and Mr Hyde, Robert Louis Stevenson arrived in Saranac Lake in 1887 and became Trudeau's patient. The famous visitor's presence helped to establish the village as a renowned health resort, and it became one of the most popular destinations for TB patients in the country. Catania estimated that more than 60,000 TB patients came to Saranac Lake, from all over the United States and even as far as Mexico and Cuba.
While the Trudeau Sanatorium grew into a sprawling site of more than 50 buildings, it could not accommodate everyone and so various other sanatoria sprung up in the area. Other patients convalesced in the private homes that became known as the cure cottages, creating a literal cottage industry, which led to the village's rapid growth and provided opportunities for financial independence for the largely female landlords.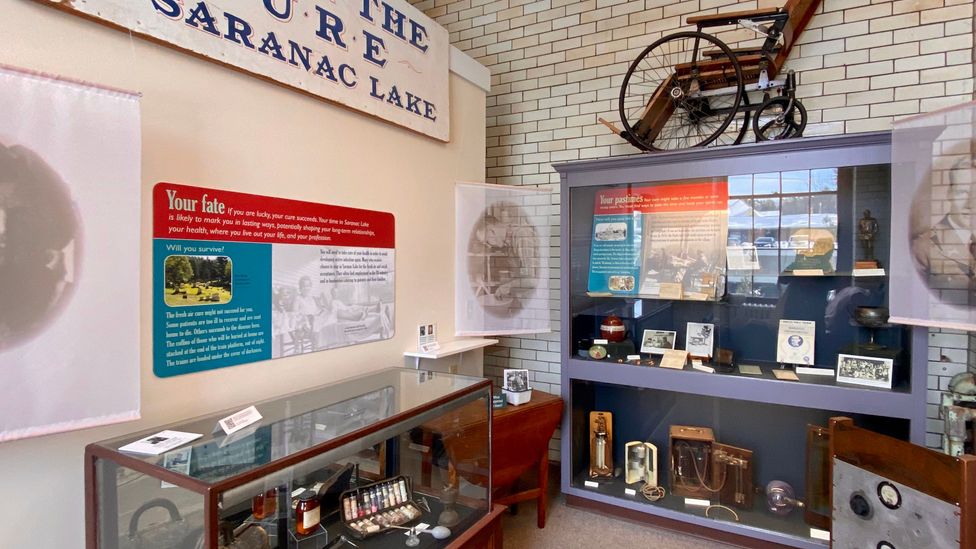 The Saranac Laboratory Museum highlights the village's unique history as a TB treatment destination (Credit: Karen Gardiner)
Trudeau's holistic approach to treatment included plenty of rest, fresh mountain air and occupational therapy. "Giving people a sense of purpose is an important part of mental health," said Catania. "So, they were really trying to help the immune system in every way they could, which meant paying attention to peoples' mood and mental health."
To provide entertainment, the Pontiac Club, of which Trudeau was a founding member, formed in 1896 to encourage light outdoor activities for TB patients. The club hosted a winter carnival in 1897 featuring a fancy dress parade. By the next year, the carnival had expanded to look much like it does today, with its ice palace.
Nevertheless, Trudeau worked towards a scientific solution to TB, and in 1894 set up the Saranac Laboratory for the Study of Tuberculosis, the first laboratory in the United States for the study of TB. The laboratory remained on the forefront of TB research beyond Trudeau's death in 1915 until the perfection of the antibiotic treatment in the early 1950s. Since the laboratory closed in 1964, research has continued into TB, which still kills more than one million people in the world every year, at the modern Trudeau Institute.
You may also be interested in:
• The birthplace of the US vacation
• How a US highway changed race laws
• The last ship of the US slave trade
The downtown laboratory building now houses the Saranac Laboratory Museum, operated by Historic Saranac Lake, who recently purchased the adjacent Trudeau Building in order to expand the museum. Visitors can see the room where Trudeau worked and view artefacts that include pottery created by patients during occupational therapy and a piano played by the wife of the composer Béla Bartók, another of Trudeau's famous patients.
The ice fortress is the centrepiece of the 10-day Saranac Lake Winter Carnival (Credit: Karen Gardiner)
As Catania showed me around the displays depicting how life was for TB patients, she connected their stories to present day Saranac Lake. Pointing first to a photograph of a patient and then to a cape worn by a nurse, she explained that the pair met in the sanatorium and had a child who is now a board member of Historic Saranac Lake. "The TB history has stayed really important to the community," she said, "because a lot of people [here] are descendants of the patients."
Many recovered patients chose to stay in Saranac Lake because they found social acceptance there. It was, wrote Tegan Kehoe in the recently published Exploring American Healthcare through 50 Historic Treasures, "a refuge from the outside world's prejudices against tuberculosis patients."
Catania said that "the community was really built by patients. So many of the people… living and working in the community either were TB patients themselves or had come here with somebody with the disease. So there wasn't the same fear and stigma [as elsewhere]."
The museum's travelling Pandemic Perspectives exhibition explores connections between people's experience during the contemporary Covid pandemic and Saranac Lake's historic TB legacy. Museum staff noticed these connections from the very beginning of the Covid crisis, "things that people were experiencing, as they were suddenly in a different social situation, locked away from their family and friends and worried about their health and the future."
Covid has brought a new influx of visitors wanting to take in Saranac Lake's fresh mountain air and, wandering around town after leaving the museum, I sensed that its healing legacy lives on, albeit in a different fashion. In the small shops, cafes and galleries that line Main Street, I spotted ads for various wellness activities including yoga, hiking and paddling. An ad for a yoga and meditation retreat invited guests to find out why "a retreat here is good for the soul".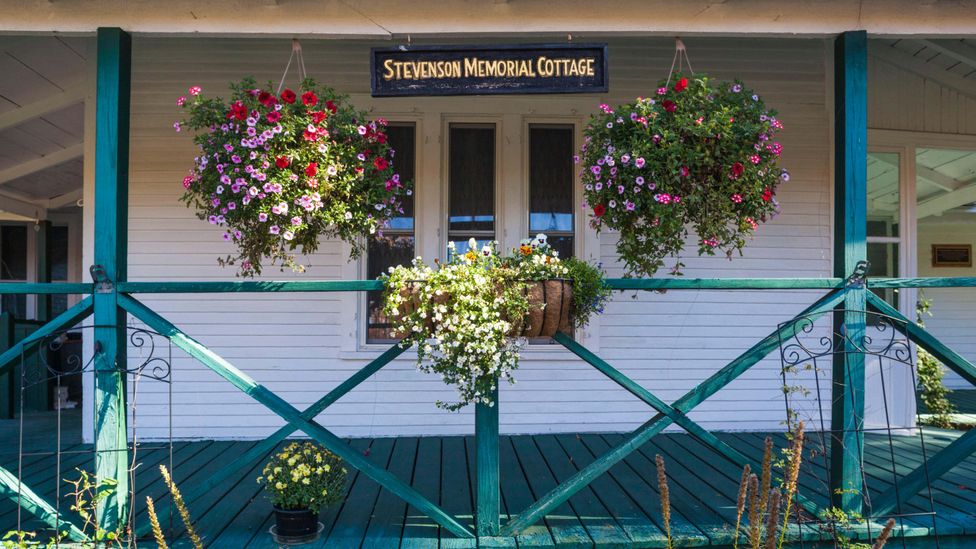 The arrival of Robert Louis Stevenson in 1887 helped to establish the village as a renowned health resort (Credit: Mauritius Images GmbH/Alamy)
Helene Gibbens, a forest and nature therapy guide who leads Adirondack Riverwalking and Forest Bathing tours, told me that Saranac Lake is a naturally healing place as it is surrounded by water and forests, elements that are known to boost wellbeing. When walking through Adirondack forests filled with conifers, maples, birches and beech, she explained, we breathe in phytoncides, airborne compounds "which have been shown to strengthen our immune system, as well as uplift our moods".
Gibbens attributes Saranac Lake's growing visitor numbers partly to increased awareness of the health benefits of being outdoors. "Perhaps," she said, "today's studies are providing the scientific data to support what health practitioners had intuited 100 years ago in the healing of tuberculosis."
—
Join more than three million BBC Travel fans by liking us on Facebook, or follow us on Twitter and Instagram.
If you liked this story, sign up for the weekly bbc.com features newsletter called "The Essential List". A handpicked selection of stories from BBC Future, Culture, Worklife and Travel, delivered to your inbox every Friday.