In 2015, a young, motivated couple, Dominic Dubé and Claudia Poulin founded the online smoothie company, evive. Per the website, the couple's desire is to share with the world their passion for accessible healthy eating and living, but currently, the company only ships to the U.S. and Canada. Offering plant-based frozen smoothie cubes that eliminate the need for a blender, evive says making these smoothies is as simple as adding the cube to a liquid, such as milk or water, and shaking it.
The smoothie section of the website details various cube options, including "Yogi," a green smoothie chock full of nutritious ingredients including pear, spinach, pea protein, and a special dehydrated vegetable blend. Evive offers a variety of other superfood combination flavors and a separate line of smoothies with extra protein. 
Best Health gave evive smoothies a positive review, calling it "way more convenient than chopping and assembling ingredients for my own smoothie." The reviewer did note that $5 for one smoothie cube may not be as cost-friendly as buying the ingredients. FEAST compared the company to health food delivery services, like Hello Fresh, suggesting that evive was the all-around better option.
Evive's elderberry smoothie may be causing illness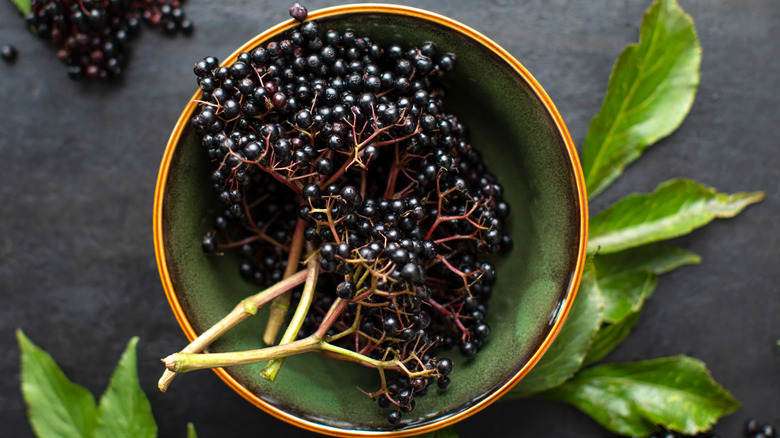 Fattyplace/Shutterstock
Today, evive issued a recall for its Immunity Super Functional Smoothie as multiple customers reported cyanide-related illnesses. According to CBC Canada, this particular smoothie contains raw elderberries, and although they are thought to help boost your immune system, they do contain glycoside, which can release cyanide when consumed. Elderberries come from the Sambucus nigra or black elder tree, and while the flowers are edible, the berries themselves can be toxic when eaten uncooked (per Cleveland Clinic).
Taking in large amounts of cyanide can lead to cyanide poisoning and even death. Symptoms of cyanide poisoning include nausea, confusion, weakness, difficulty breathing, headache, loss of consciousness, seizure, and cardiac arrest (via Healthline).
The Canadian Food Inspection Agency has initiated an investigation to determine whether additional products need to be recalled (per Newswire). Customers are urged to throw away or return the recalled smoothie, and to seek medical help if symptoms of cyanide poisoning arise after consuming the smoothie.