2 hr 29 min ago
Biden says Putin "cannot remain in power," but White House says it's not call for regime change
From CNN's Kevin Liptak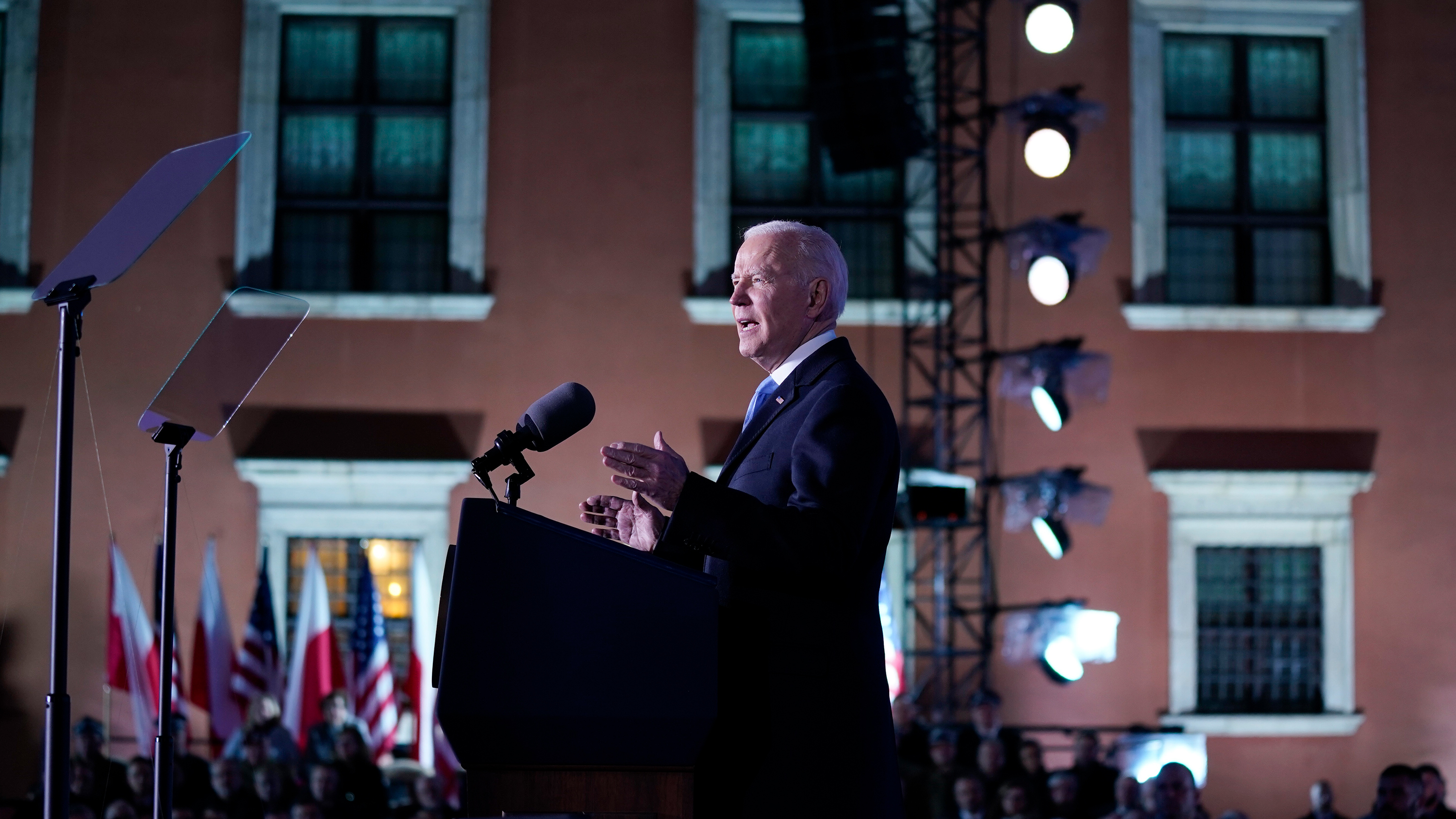 US President Joe Biden declared forcefully Saturday that Russian President Vladimir Putin "cannot remain in power," but the White House said afterward that it was not a call for regime change.
"For God's sake, this man cannot remain in power," Biden announced at the very conclusion of a capstone address delivered at the Royal Castle in Warsaw.
"The President's point was that Putin cannot be allowed to exercise power over his neighbors or the region. He was not discussing Putin's power in Russia, or regime change," a White House official said.
Biden's line that Putin "cannot remain in power" was not in his prepared remarks, a White House official said.
US officials had said previously said removing Putin from power was not their goal.
"For us, it's not about regime change. The Russian people have to decide who they want to lead them," Secretary of State Antony Blinken said earlier this month.
The Kremlin's response: "This is not to be decided by Mr. Biden," Kremlin spokesman Dmitry Peskov said. "It should only be a choice of the people of the Russian Federation."
4 hr ago
US president tells Russian people you are "not our enemy"
From CNN's Allie Malloy
US President Joe Biden gave a direct message to the Russian people while speaking from Warsaw Saturday telling them, "You… are not our enemy." 
"I've always spoken directly and honestly to you, the Russian people, let me say this if you're able to listen: You the Russian people are not our enemy. I refuse to believe that you welcome the killing of innocent children and grandparents or that you accept hospitals, schools, maternity wards — for God's sake — being pummeled with Russian missiles and bombs," Biden said.
Biden also said Putin's actions in Ukraine are "not the actions of a great nation" and called on Russians who were alive during the Soviet Union and heard of it from their families to speak up. 
"These are not memories of the past," Biden said. "This is exactly what the Russian army is doing in Ukraine right now."
"This is not who you are. This is not the future you deserve for your families and your children. I'm telling you the truth. This war is not worthy of you, the Russian people," Biden said. 
4 hr 11 min ago
Biden sends warning to Putin: Don't "even think" about moving on NATO territory
From CNN's Kevin Liptak
US President Joe Biden, standing along NATO's eastern edge in Poland, issued a stern warning to Russia's Vladimir Putin on Saturday: "Don't even think about moving on one single inch of NATO territory." 
Biden delivered the notice during a speech in Warsaw. He said the US was committed to the collective protection obligations laid out in NATO's charter "with the full force of our collective power."
But Biden made clear the current conflict in Ukraine — not a NATO member — doesn't require America to become directly involved.
"American forces are not in Europe to engage in conflict with Russian forces, American forces are here to defend NATO allies," he said.
4 hr 12 min ago
Three additional blasts heard in Lviv, regional military administration says
From CNN staff in Lviv
Maksym Kozytsky, the head of the Lviv regional military administration, said there were three additional explosions following a Russian strike earlier on a fuel depot.
"Another strike near Lviv," Kozytsky said on his Telegram account. "There were three more powerful explosions. The air alarm remains!"
After the initial strike on the fuel depot, Lviv Mayor Andriy Sadovyi said another strike had hit the city.
"As a result of new missile strikes on Lviv, significant damage was inflicted on infrastructure facilities," Sadovyi said in a tweet.
Residential buildings were not damaged, the mayor added.
4 hr 12 min ago
US president says Russia has "strangled democracy"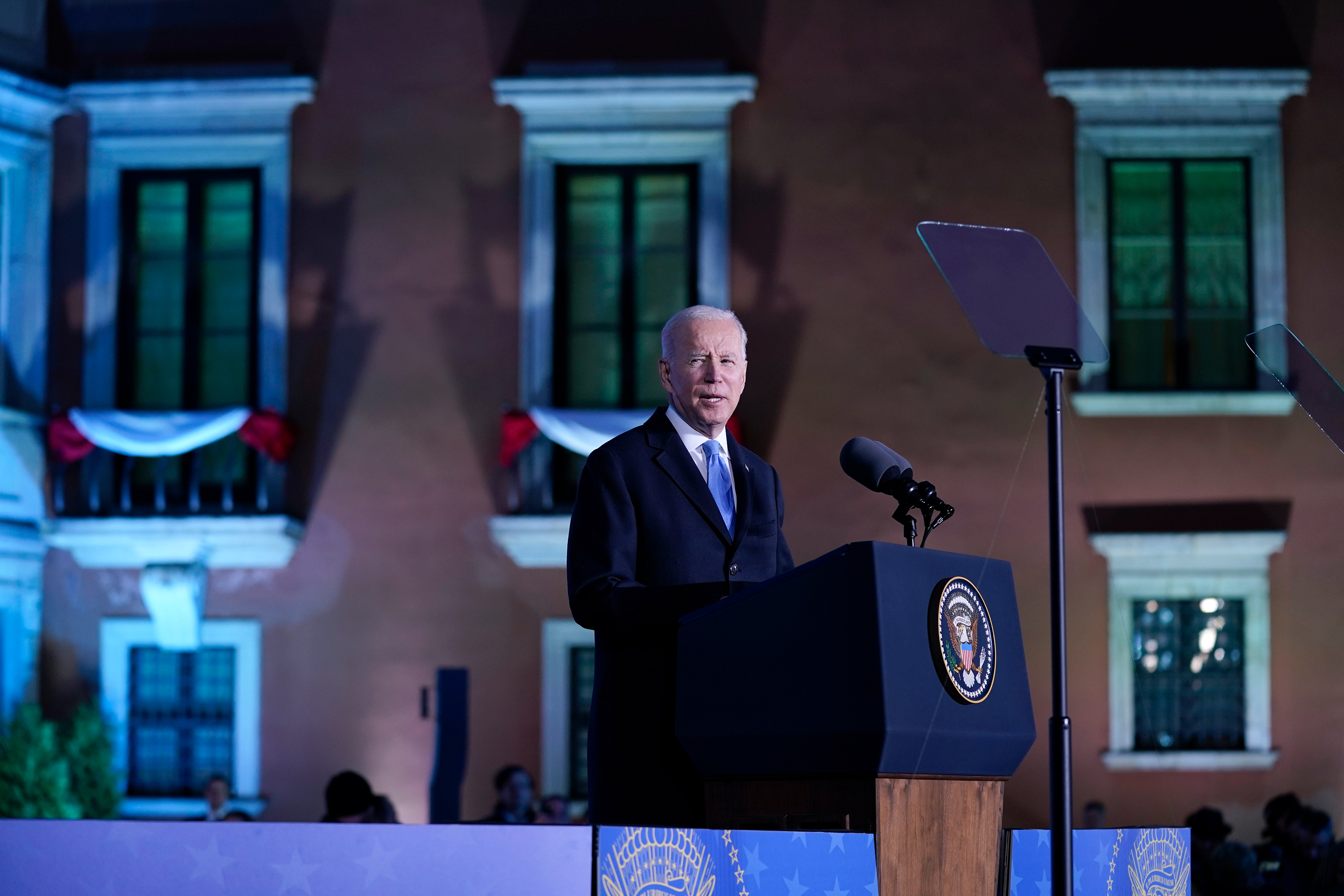 US President Joe Biden, speaking in Warsaw, said that Russia has "strangled democracy" in its invasion of Ukraine and called out Russian President Vladimir Putin's lies in justifying the war.
"Over the last 30 years, the forces of autocracy have revived all across the globe. Its hallmarks are familiar ones: contempt for the rule of law, contempt for democratic freedom, contempt for the truth itself," Biden said.
"Today, Russia has strangled democracy and sought to do so elsewhere, not only in his homeland. Under false claims of ethnic solidarity, he's invalidated neighboring nations. Putin has the gall to say he's 'denazifying Ukraine.' It's a lie. It's just cynical. He knows that. And it's also obscene. President Zelensky was democratically elected. He's Jewish. His father's family was wiped out in the Nazi Holocaust. And Putin has the audacity, like all our autocrats before him, to believe that might will make right," he said.
Biden then referenced US President Abraham Lincoln, who said "right makes might."
Biden also addressed the Russian president's criticism of NATO.
"A criminal wants to portray NATO enlargement as an imperial project aimed at destabilizing Russia. Nothing is further from the truth. NATO is a defensive alliance. It has never sought the demise of Russia," Biden said.
Putin made the choice to engage in war, Biden said.
"It's nothing less than a direct challenge to the rule-based international order established since the end of World War II, and it threatens to return to decades of war that ravaged Europe before the international rule-based order was put in place. We cannot go back to that. We cannot," he said.
He then outlined steps to stymie Russia, including sanctions and other economic actions.
4 hr 20 min ago
Biden assures Ukrainians "we stand with you"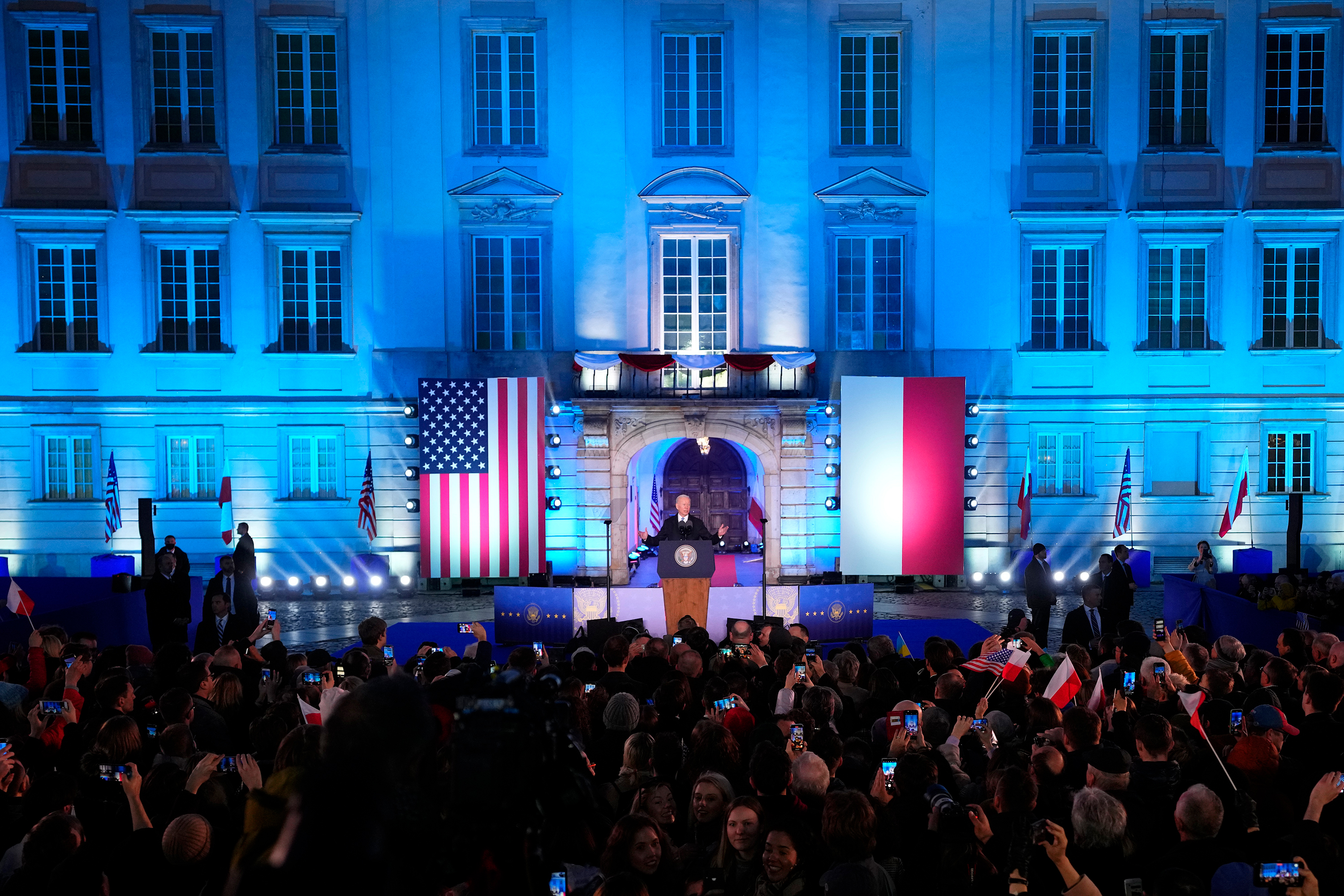 US President Joe Biden opened his speech in Warsaw by referencing Poland-born Pope John Paul II's message to the Soviet Union in 1979.
"Be not afraid," he said.
"We emerged anew in the great battle for freedom, a battle between democracy and autocracy, between liberty and repression. … In this battle, we need to be clear-eyed. This battle will not be won in days or months either. We need to steel ourselves for the long fight ahead," Biden said outside the Royal Castle .
There was applause when he mentioned people from Ukraine in the crowd in Warsaw.
"Now in the perennial struggle for democracy and freedom, Ukraine and its people are on the front lines, fighting to save their nation, and their brave resistance is part of a larger fight for … essential democratic principles that unite all free people," he said.
"My message to the people of Ukraine is a message I delivered today to Ukraine's foreign minister and defense minister, who I believe are here tonight: We stand with you. Period," he said.
4 hr 36 min ago
There has been another strike in Lviv, according to mayor
From CNN's Chandler Thornton
Lviv Mayor Andriy Sadovyi said another strike has hit the western Ukrainian city.
"Another rocket strike in Lviv," Sadovyi said in a tweet, adding "updating the information."
4 hr 35 min ago
Biden briefed on strike in Lviv as he is set to give speech in Poland
From CNN's Kaitlan Collins and Phil Mattingly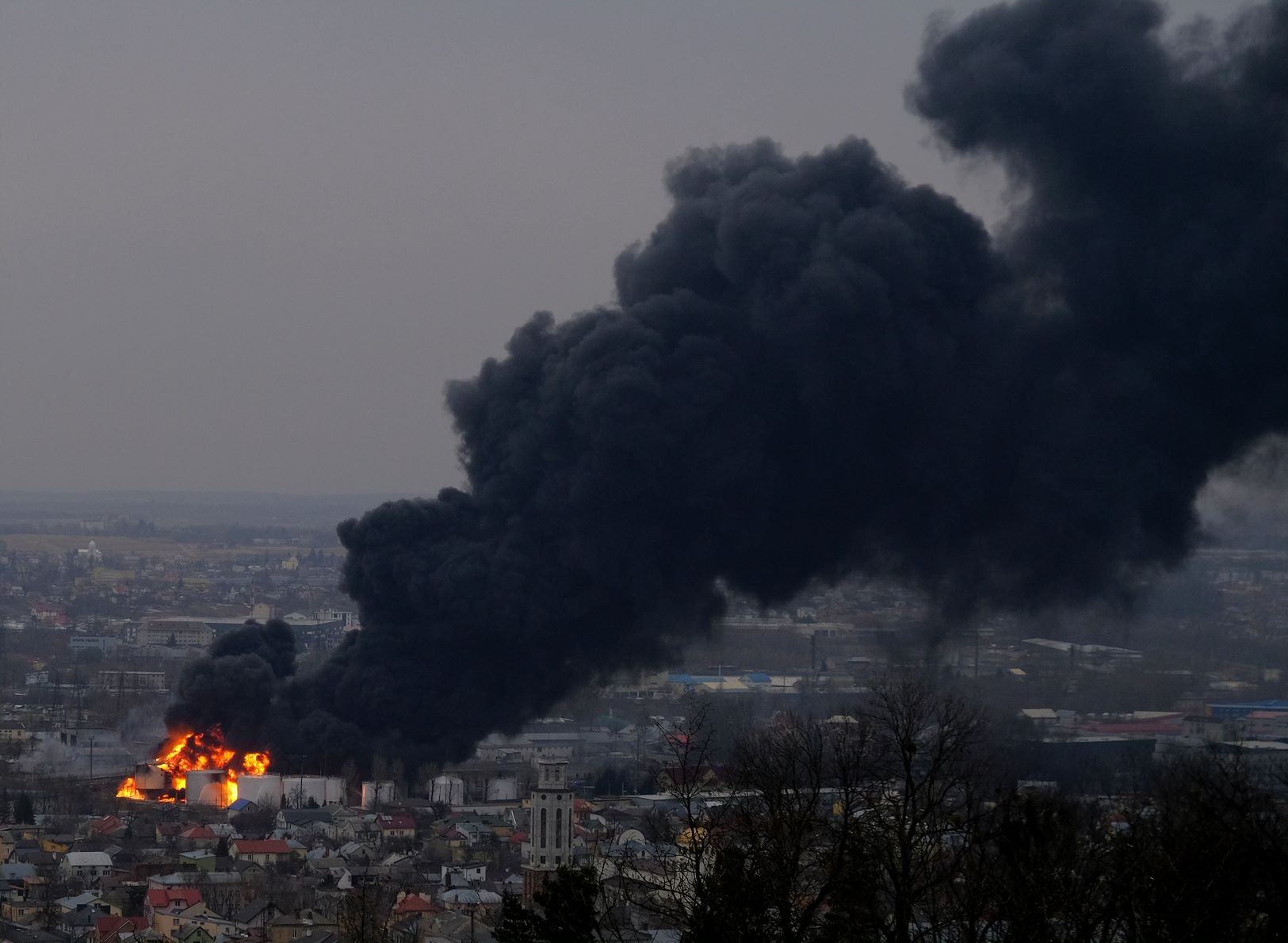 US President Joe Biden was briefed on the strike on Lviv before leaving his hotel to deliver a speech in Poland, a White House official says. 
The White House has called the speech a "major address."
There are also Ukrainian refugees in the crowd assembled in front of the stage for Biden's remarks, per a White House official.
2 hr 42 min ago
On the ground: Fire and thick smoke pour up from site of blast at fuel storage facility in Lviv
From CNN's Chandler Thornton and Adrienne Vogt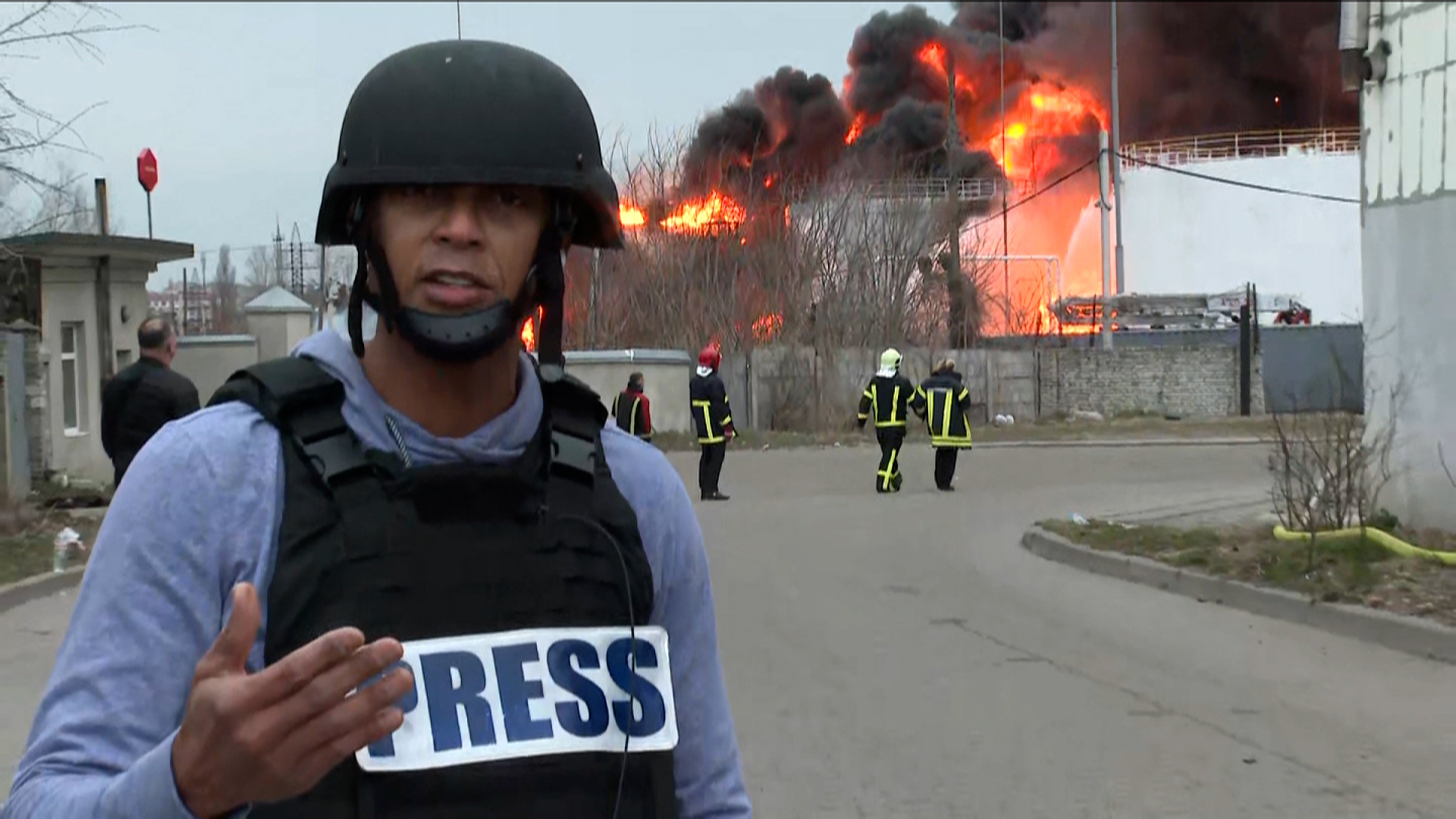 CNN's Don Lemon is at the site of an industrial facility used for fuel storage in Lviv, Ukraine, where a blazing fire and thick black smoke are rising.
"According to the mayor, he believes it is a Russian military strike on this facility," Lemon reported.
Lviv Mayor Andriy Sadovyi said that "habitable infrastructure was not injured," in a tweet confirming the burning of the facility. Firefighters and first responders are on the scene. Residents of a nearby neighborhood are also outside waiting for more information.
Sadoyvi advised residents to continue staying in shelters until the air alarm stops.
Lemon and his team were pushed back because there is concern about another explosion, he said.
The situation is fluid.