2 hr 22 min ago
Video shows Russian forces dug trenches in highly radioactive off-limits area near Chernobyl
From CNN's Jonny Hallam in Atlanta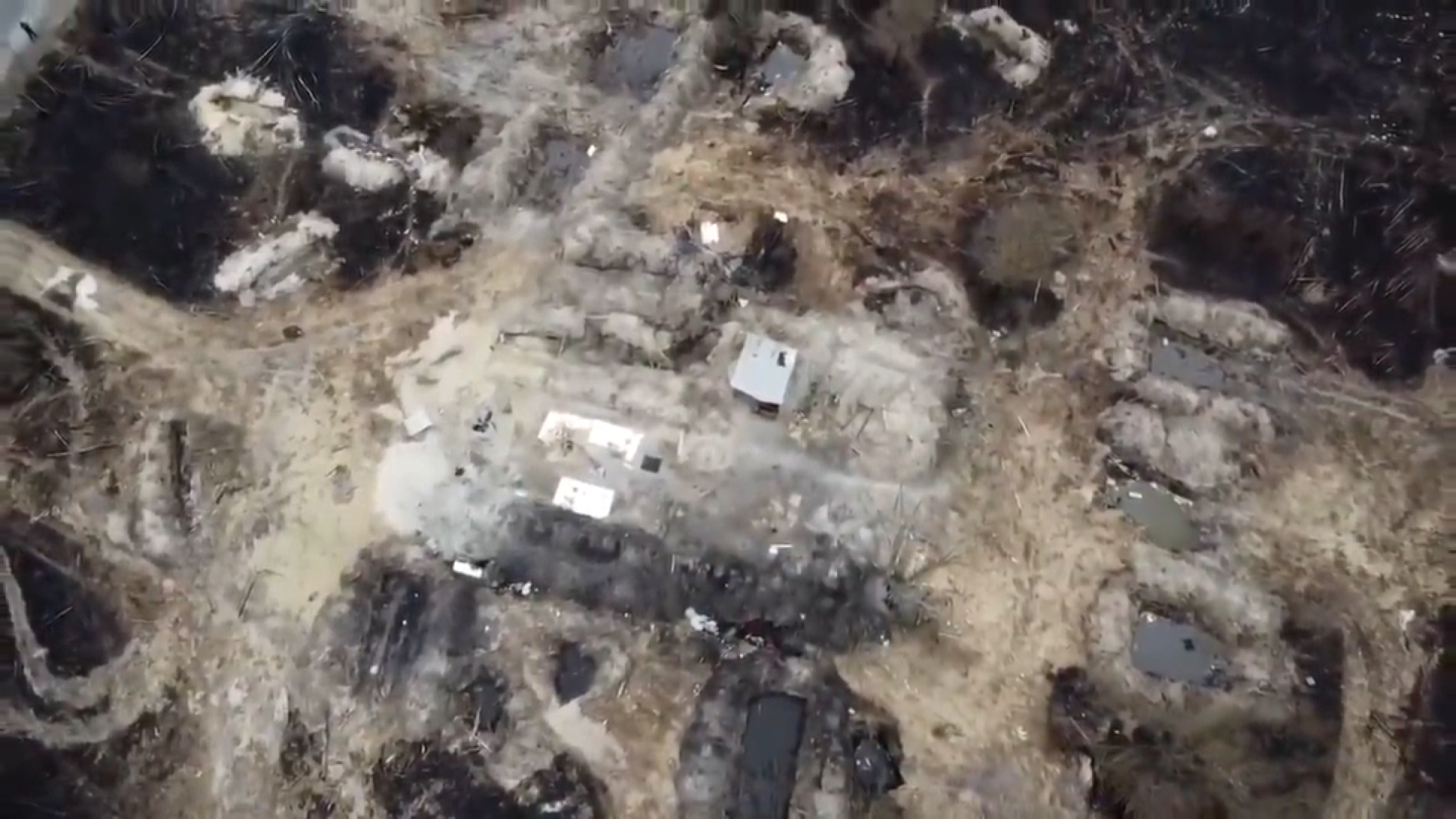 Abandoned Russian military positions in a highly radioactive area of the exclusion zone near the Chernobyl Nuclear Power Plant can be seen in drone video released Wednesday by Ukrainian authorities.
The video — filmed by the Ukrainian military and released on Telegram by Energoatom, the state-owned operator of Ukraine's nuclear power plants — shows vacant pits and trenches of abandoned military fortifications in an area known as the Red Forest.  
According to Reuters, the Red Forest got its name when dozens of square kilometers of pine trees turned red after absorbing radiation from the 1986 explosion at Chernobyl — the world's worst nuclear disaster.
Tank tracks and heavily disturbed ground can also be seen in the forest — considered the most polluted area in the entire Chernobyl exclusion zone — and off limits to anyone who does not work there or have special permission.
Radiation dangers: Last Friday, Energoatom said it was unclear what Russian troops were doing in the Red Forest and it is possible they could have received significant radiation exposure when digging or entrenching there. 
Thick radioactive dust kicked up by heavy Russian vehicles could have been inhaled by the troops, who were not wearing anti-radiation protective equipment, plant workers said.
Chernobyl fell into the hands of Russian troops in the first week of the war in Ukraine. On Thursday, Russian troops announced their intention to leave and handed over control to Ukrainian personnel. The plant is now back under the control of Ukrainian authorities.
4 hr 30 min ago
Mariupol mayor says 40% of city's destroyed infrastructure is no longer recoverable
From CNN's Mariya Knight and Hira Humayun
In a roundtable on Wednesday, Mariupol Mayor Vadim Boychenko called for stronger sanctions against Russia and said Russia's war crimes be recorded by international institutions.
He said more than 90% of the city's infrastructure has been destroyed by Russia and that at least 40% of that is "no longer recoverable."
The Mariupol city council shared a transcript of Boychenko's remarks at the roundtable, in which the mayor said the city council has set up a commission to "record the instances of destruction of communal and private property" and that the council has so far recorded 300 such instances.
Boychenko said, "According to preliminary estimates alone, 5,000 people died in Mariupol during the month of the blockade, of which about 210 were children."
He added, "Russian terrorist forces dropped several heavy bombs on a children's hospital and destroyed one of the buildings of the city hospital No.1. Almost 50 people were burned alive."
"The Drama Theater was bombed, where more than 900 people were hiding from the shelling at the time. These are just a few examples of the deliberate destruction of the civilian population of Mariupol, " Boychenko added
5 hr 33 min ago
USAID helps deliver 5,000 of SpaceX's satellite internet service terminals to Ukraine
From CNN's Kristin Fisher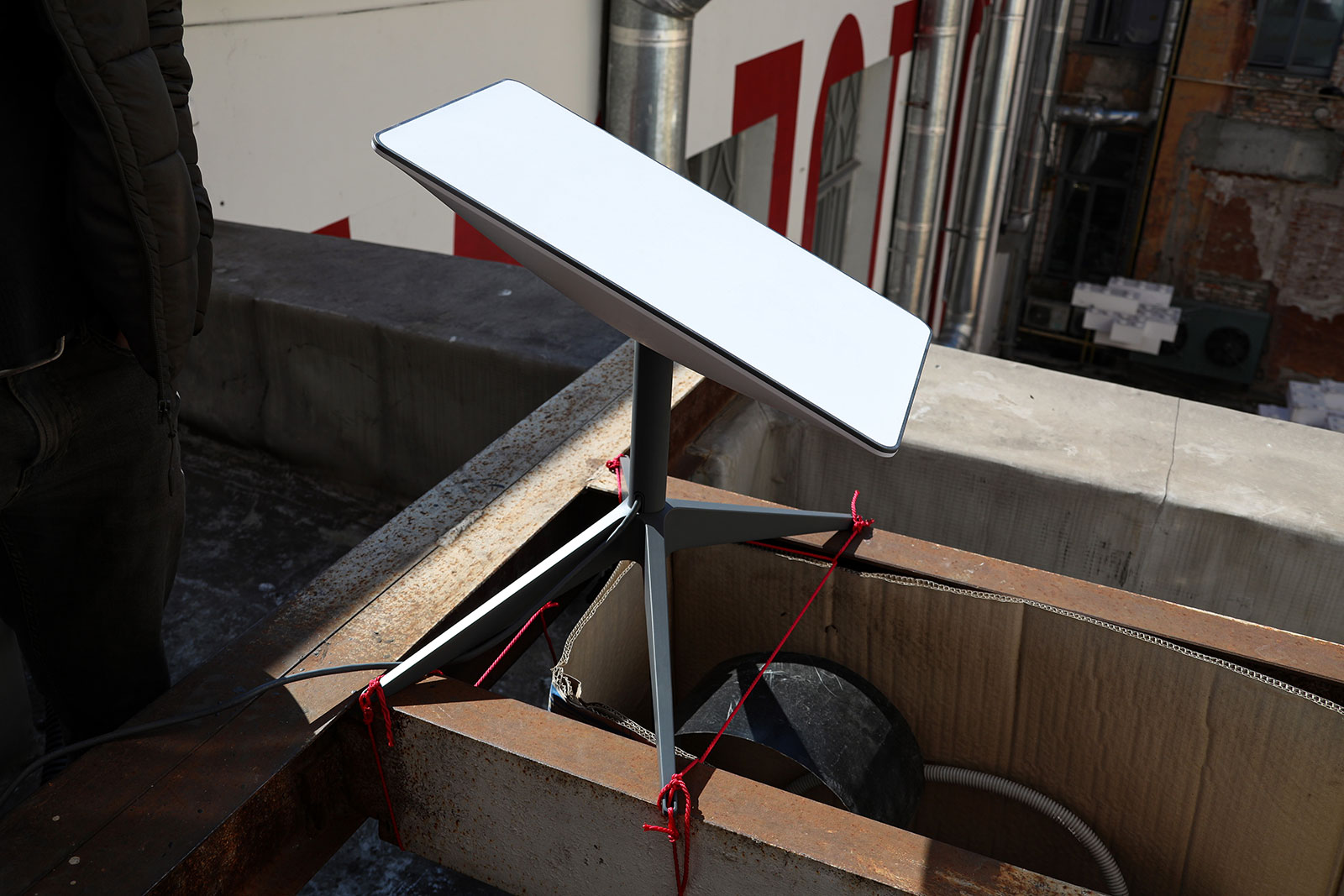 The US government is helping Elon Musk's SpaceX fund and ship thousands of satellite internet terminals to the Ukrainian government, a potential safeguard in the event Russia disrupts the country's communication infrastructure.
The US Agency for International Development (USAID) announced Tuesday it has delivered 5,000 Starlink terminals to the government of Ukraine.
Starlink is SpaceX's satellite internet service which allows users in remote or war-torn regions of the world to access the internet at broadband speeds with terminals or antennas that look similar to a small TV dish. 
"The Starlink satellite terminals will enable unlimited, unthrottled data connectivity from anywhere in Ukraine," according to a statement from the USAID. "The terminals will allow public officials and critical citizen service providers to continue to communicate within Ukraine and with the outside world, even if Putin's brutal aggression severs Ukraine's fiber optic or cellular communication infrastructure connections."
When Russia invaded in February, Elon Musk activated Starlink service for the first time over Ukraine and announced on Twitter that "more terminals en route." 
At the time, Musk was responding to a plea from Ukraine's vice prime minister amid fears the country internet access would go dark as Russia continued its invasion. It's unclear how many Starlink terminals SpaceX delivered to Ukraine before the USAID got involved. 
SpaceX has launched more than 2,000 Starlink satellites since May 2019, with plans to launch around 42,000 more over the next several years.
6 hr 49 min ago
White House press secretary says "we should be under no illusion" that Russia's objective has changed
From CNN's Sam Fossum
White House Press Secretary Jen Psaki predicted Wednesday that there will be more scenes of carnage like Bucha and noted that no one should be under the illusion that the Kremlin's goals have changed, despite the retreat of Russian forces from Northern Ukraine.  
"Their goal remains weakening Ukraine as much as possible. And we should be under no illusion that that objective hasn't changed even as their tactics have changed," Psaki told CNN's MJ Lee at the White House on Wednesday. 
Psaki also said that the US sanctioned Russian President Vladimir Putin's two recognized adult children, Maria Putina and Katerina Tikhonova, because the government has seen attempts to stash money with them. 
"We've seen attempts and efforts to stash assets in the accounts and resources of his children," Psaki said. 
Psaki also addressed the impacts of US sanctions.
"What we do know is that because of the impact of the economic sanctions, including the ones we have taken today, and steps we've taken over the course of time, we have seen an unquestionable, significant impact. on Russia's economy," Psaki said. 
She added: "Russia is set to lose its status as a major economy. And our objective is to implement those consequences to make it much more difficult for President Putin to fund the war. And we're seeing the direct impacts of that already."
7 hr ago
It's just past 11 p.m. in Kyiv. Here's what you need to know.
From CNN's Chris Liakos, Matt Egan, Kaitlan Collins, Katharina Krebs, Amy Cassidy, Kevin Liptak and Olga Voitovych
European ambassadors met in Brussels today to debate the European Commission's proposal on new sanctions against Russia as Russian forces ramped up attacks in Ukraine.
According to an EU source, there is an agreement to adopt this package very quickly, but there are a lot of technical questions, which "is normal as it is a very dense package," according to the source.
Meanwhile, the US also announced a new round of sanctions, including targeting Russian President Vladimir Putin's adult daughters and major Russian financial institutions.
On the ground in Ukraine, civilian casualty numbers continue to rise.
If you're just reading in now, here's what you need to know today:
Civilian casualties: At least 1,563 civilians have been killed since the Russian invasion of Ukraine began, according to the Office of the United Nations High Commissioner for Human Rights.
The UN agency has recorded 3,776 civilian casualties in Ukraine so far: 1,563 killed and 2,213 injured, it said in its latest update posted Wednesday. 
In Kyiv, at least 89 people have been killed, including four children, and 167 homes damaged since the beginning of the Russian invasion, Kyiv City State Administration wrote in a statement on a verified Telegram page on Wednesday. Another 398 people, including 20 children, were injured in the war.  
Since Feb. 24, Russian troops have damaged 44 Kyiv schools, 11 administrative buildings, 26 kindergartens and an orphanage.
The administration urged its residents not to lose vigilance and to take shelter at the first signs of air alarms.  
On the ground: The town of Severodonetsk has been heavily shelled, the head of the Luhansk region's military administration said Wednesday, adding that 10 high-rise buildings in the town were on fire. 
"The Russians fired on Severodonetsk — 10 high-rise buildings are on fire," regional governor Serhii Haidai said on Telegram. "Information about casualties is being clarified."
While the shelling did not hit any strategic or military facilities, it did hit a factory workshop in Lysychansk and a house in Rubizhne, Haidai said.
Russian forces had hit towns and villages of Luhansk region a total of 81 times over the previous night, Haidai added.
The US assesses that Russian forces have completely withdrawn from areas near Kyiv and Chernihiv to "reconsolidate and refit in Belarus and in Russia," according to a senior US defense official.
The official also said Russia has still not "secured" Mariupol despite isolating the city.
Russia has now launched more than 1,450 missiles against Ukraine since the invasion, the official said.
NATO head predicts Ukraine conflict could continue "for a long time": Although Russia is now concentrating its assault on eastern Ukraine, NATO has seen "no indication" that Putin's aim of controlling the whole country has changed, Secretary General Jens Stoltenberg said Wednesday.
Speaking to reporters before a meeting in Brussels of foreign ministers of NATO allies, Stoltenberg also warned the war in Ukraine could last for years.
"We have seen no indication that President Putin has changed his ambition to control the whole of Ukraine and also to rewrite the international order, so we need to be prepared for the long haul," he said. "We have to be realistic and realize that this may last for a long time, for many months or even years."
The foreign ministers of NATO countries are meeting Wednesday and Thursday to discuss ramping up support for Ukraine.
Sanctions: The US is taking additional actions to increase economic pressure on Russia and Putin following horrific images from the Ukrainian city of Bucha, announcing new sanctions Wednesday on Russian financial institutions, as well as some people, including Putin's adult daughters and the wife and daughter of his foreign minister. 
"Today we're dramatically escalating the financial shock by imposing full blocking sanctions on Russia's largest financial institution, Sberbank, and its largest private bank, Alfa Bank," a senior administration official briefing reporters said. 
Sberbank holds nearly one-third of Russia's total banking sector assets, the official noted, adding that the US has now fully blocked "more than two-thirds of the Russian banking sector."  
Second, the senior official announced, "In alignment with the G7 and the EU, we're announcing a ban on new investment in Russia." That will be implemented with an executive order signed by US President Joe Biden. 
The United States won't participate in G20 meetings that Russia is participating in, US Treasury Secretary Janet Yellen said Wednesday.
Speaking at the House Financial Services Committee, Yellen said she'd made that position clear to other finance ministers in the group.
6 hr 55 min ago
Here are Wednesday's figures on evacuations, according to Ukraine's deputy prime minister
From CNN's Josh Pennington and Hira Humayun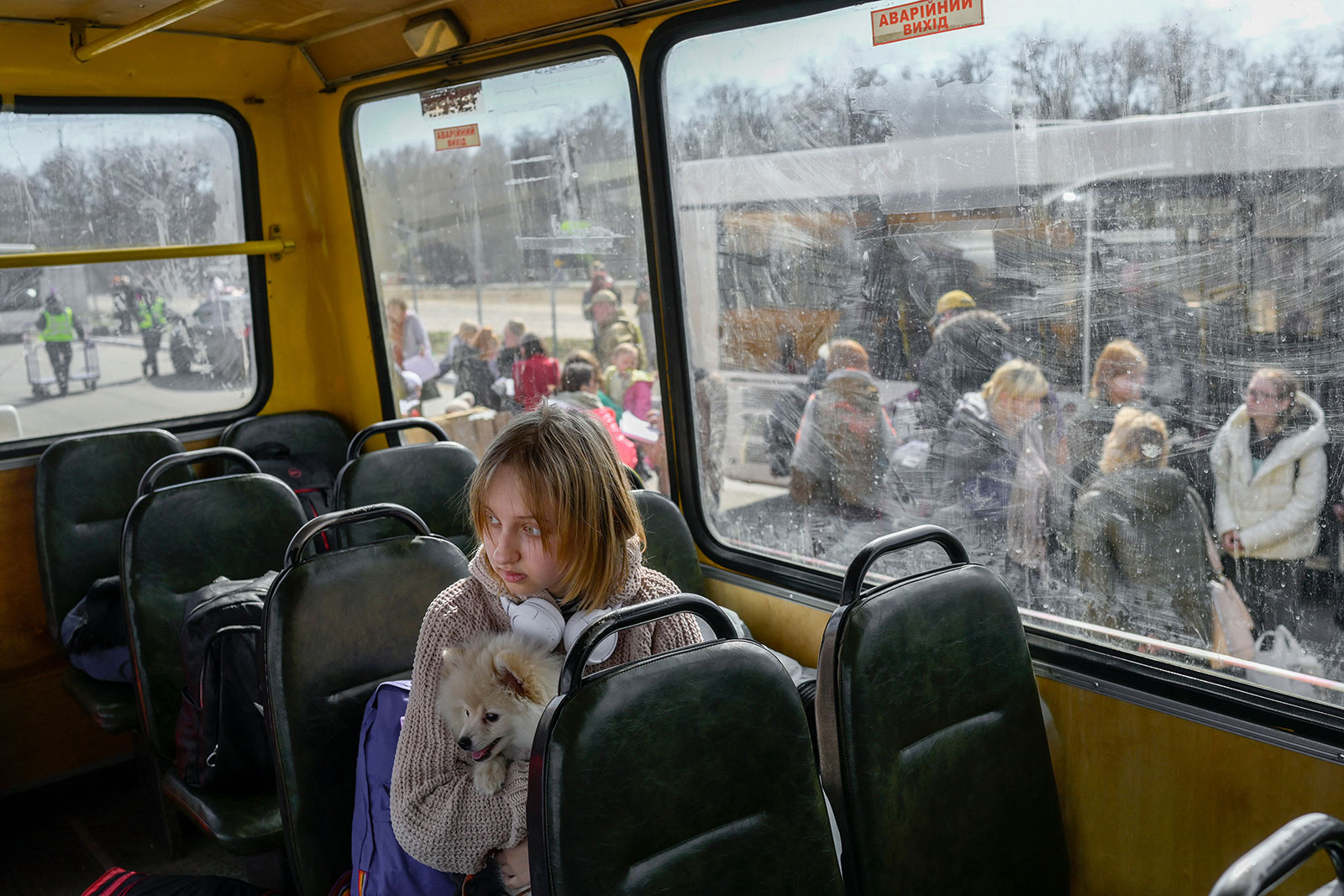 Ukrainian Deputy Prime Minister Iryna Vereshchuk said 4,892 people were evacuated through evacuation corridors Wednesday.
In a Facebook post on Wednesday night, she said 3,686 people arrived in Zaporizhzhia from Mariupol and Berdiansk. This included 1,171 people from Mariupol and 2,515 people from the towns of Polohy, Vasylivka, Berdiansk, Melitopol and Huliaipole.
She said 11 buses left Zaporizhzhia on Wednesday, headed for the city of Vasylivka, carrying residents from the towns of Melitopol and Tokmak. The buses will continue onward on Thursday. 
Also on Thursday, buses carrying residents from Berdiansk will depart Zaporizhzhia, she said.
Vereshchuk added that 1,206 people were evacuated from the towns of Lysychansk, Severodonetsk, Rubizhne, Kreminna and the village Hirske — all in the Luhansk region.
7 hr 20 min ago
Pentagon: "impossible" to know how long the war will go on, but Ukraine can win
From CNN's Mike Conte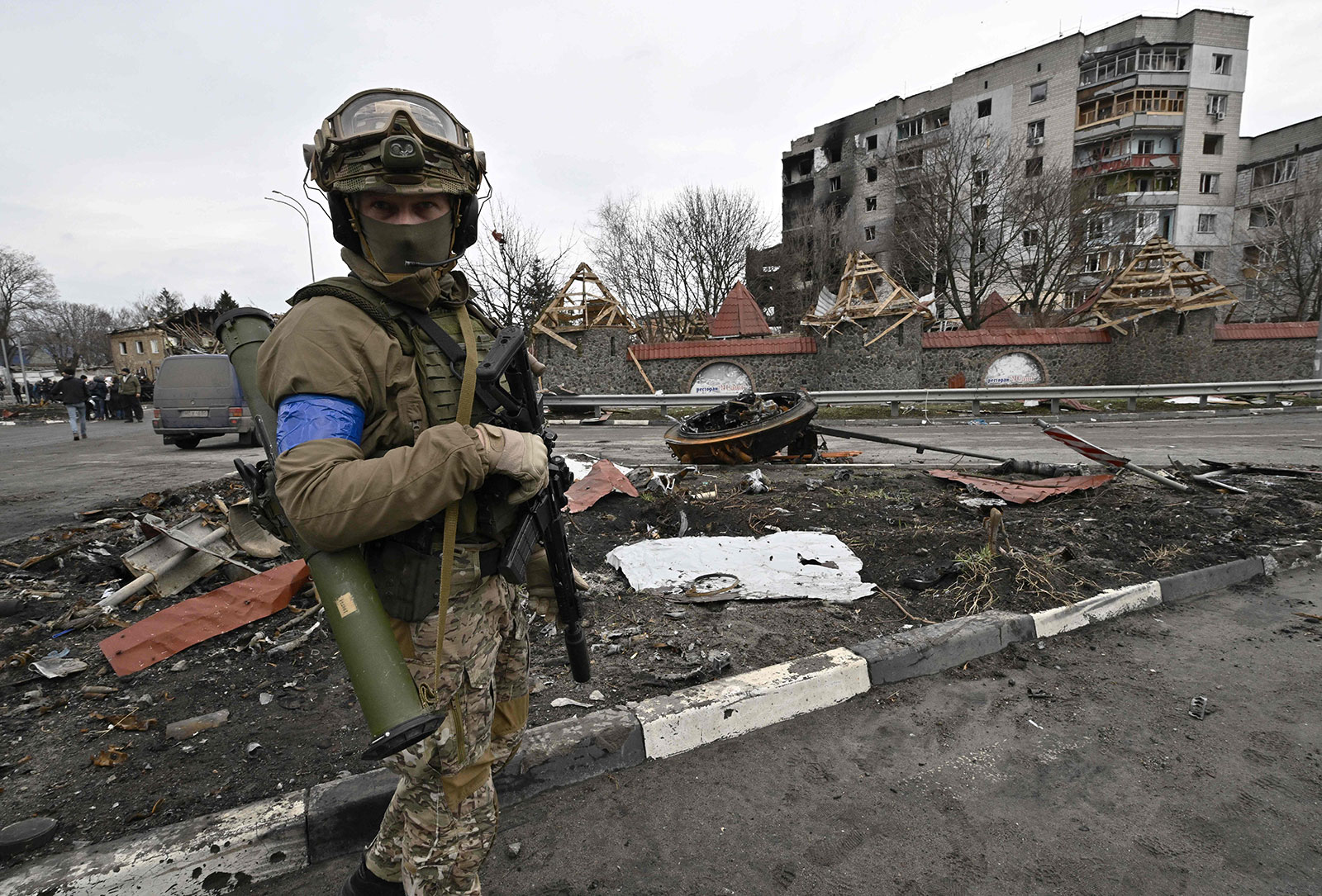 The US Defense Department says it's "impossible" to know how long the war in Ukraine will go on if not ended through diplomacy, but that Ukraine "of course" can win the war.
"The fact that [Russian President Vladimir Putin] is going to concentrate in a smaller geographic area certainly present the possibility that the violence will continue," Pentagon press secretary John Kirby said. "It could even intensify in that part of Ukraine."
Kirby reiterated that Ukraine can "absolutely" win the war as demonstrated by Putin's inability to achieve his strategic objectives.
"Mariupol is still not taken. He's moved his forces out of Kyiv. He's moved his forces out of Chernihiv. They haven't taken Kharkiv. They haven't taken Mykolaiv in the south," Kirby said. "So I think the proof is literally in the outcomes that you're seeing every day.
7 hr 56 min ago
The US has now sent 100 switchblade drones to Ukrainian military, Defense Department official says
From CNN'a Michael Conte
The US has sent the 100 switchblade drones that they said would be provided to the Ukrainian military, and "they'll be getting into Ukraine quickly if they aren't already there," said a Defense Department official.
"We're in discussions with the Ukrainians about future usages of switchblade drones, and of course we'll keep that option open going forward," said Pentagon press secretary John Kirby.
The small, portable, so-called kamikaze drones carry warheads and detonate on impact. The smallest model can hit a target up to six miles away, according to a company that produces the drones.
Kirby also said that the US has trained "a very small number of Ukrainian soldiers who were already in the United States and had been since the fall" on the drones before they returned to Ukraine to train others. 
"An individual could be suitably trained on how to use the switchblade drone in about two days or so," said Kirby.
He also said that the US would "look at other suitable opportunities if needed to provide more training on the switchblades if it's necessary."
8 hr 46 min ago
US believes it can "identify the Russian units" that carried out Bucha atrocities, official says
From CNN's Barbara Starr
The US now believes "it will be able to identify the Russian units" that carried out the atrocities in Bucha, Ukraine, according to a US official familiar with the latest information. 
Identification of those involved "is an extremely high priority now" for the US intelligence community, the official said.
Collecting and analyzing streams of intelligence using all available tools and assets has been underway since the atrocities came to light, and the US is at the point of "narrowing down" responsibility the official said. 
It's not certain the US would announce its findings publicly and a decision could be made to leave it to Ukraine, the official said. The US is also analyzing possible indicators that more than one Russian unit or group of fighters was in Bucha during the time the atrocities occurred. The US is trying to determine if some of this happened as one Russian unit was withdrawing and another came in, the official added.