1 min ago
The Russian army is facing difficulties, according to a French military spokesperson
From CNN's Camille Knight and Joseph Ataman in Paris
The Russian army was poorly prepared for its invasion of Ukraine and is now facing many difficulties on the ground, "particularly in the logistical field and in the field of intelligence," French armed forces spokesperson Pascal Ianni told French TV station France2 on Friday. 
"It is possible that an attack on Kyiv will be carried out in the next few days, but actually taking control of Kyiv is a whole other matter and will take a long, long time," he said, pointing to the Russian army's "reserve problem."
The Russian army is also caught up in a premature spring," he added, with the defrosting ground causing mobility issues for the military.
A 40-mile-long Russian convoy had previously been advancing on the capital for days, but new satellite images released on Thursday showed that it had largely dispersed and been redeployed.
8 min ago
Ukraine is trying to open new evacuation routes on Friday, authorities say
From CNN's Tim Lister in Kyiv and Olga Voitovych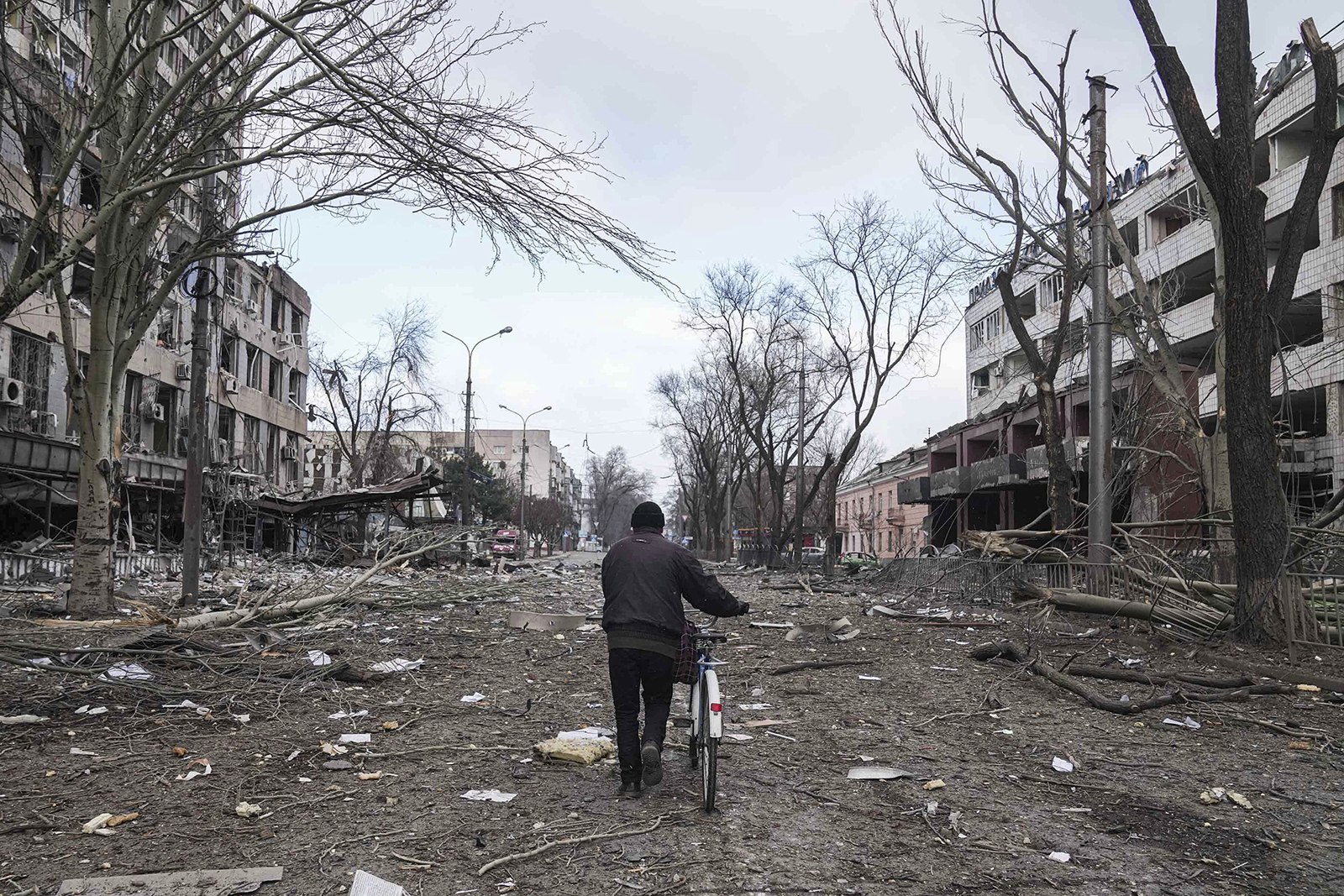 Ukraine is trying to open evacuation corridors in several regions on Friday, according to the country's Minister of Reintegration Iryna Vereshchuk.
The planned routes include:
Mariupol-Zaporizhzhia
Volnovakha-Pokrovsk
Polohy-Zaporizhzhia
Enerhodar-Zaporizhzhia
Izium-Lozova
Routes from Mariupol and Volnovakha have been repeatedly blocked or inaccessible over the past week amid heavy fighting and shelling by Russian forces. There has been more success in evacuating people from Izium, which has seen widespread destruction.
These routes have not been agreed with Moscow, which announced different routes leading into Russia.
Vereshchuk said further attempts would be made to allow people to escape fighting around Kyiv, with routes from the capital to destinations including Bucha, Hostomel, Kozarovychi and Mykulychi.
Routes were also announced near Zhytomyr, west of Kyiv, opening corridors to Andriyivka, Makariv, and Borodianka.
Some context: About 100,000 people were evacuated via evacuation corridors in several parts of Ukraine over the past two days, President Volodymyr Zelensky said Thursday.
2 hr 20 min ago
UK Defense Ministry: Russia could be preparing for renewed attack on Kyiv
From CNN's Amy Cassidy and Paul Murphy
The United Kingdom's Ministry of Defense said on Friday that Russian forces continue to make "limited progress" in advancing toward Kyiv — but could be preparing for a fresh attack against the Ukrainian capital in the coming days.
"It remains highly unlikely that Russia has successfully achieved the objectives outlined in its pre-invasion plan," the ministry said in an intelligence update. "Logistical issues that have hampered the Russian advance persist, as does strong Ukrainian resistance."
"Russia is likely seeking to reset and re-posture its forces for renewed offensive activity in the coming days. This will probably include operations against the capital Kyiv," it said. 
Massive convoy dispersed: New satellite images taken on Thursday show a Russian military convoy northwest of Kyiv that stretched more than 40 miles (64 kilometers) has "largely dispersed and redeployed," Maxar Technologies says.
The images show that some elements of the convoy have "repositioned" into forests and treelined areas near Lubyanka, Ukraine, according to Maxar.
2 hr 15 min ago
US congressman on Brittney Griner's detention in Russia: "We're going to do everything we can to get her home"
From CNN's Melissa Alonso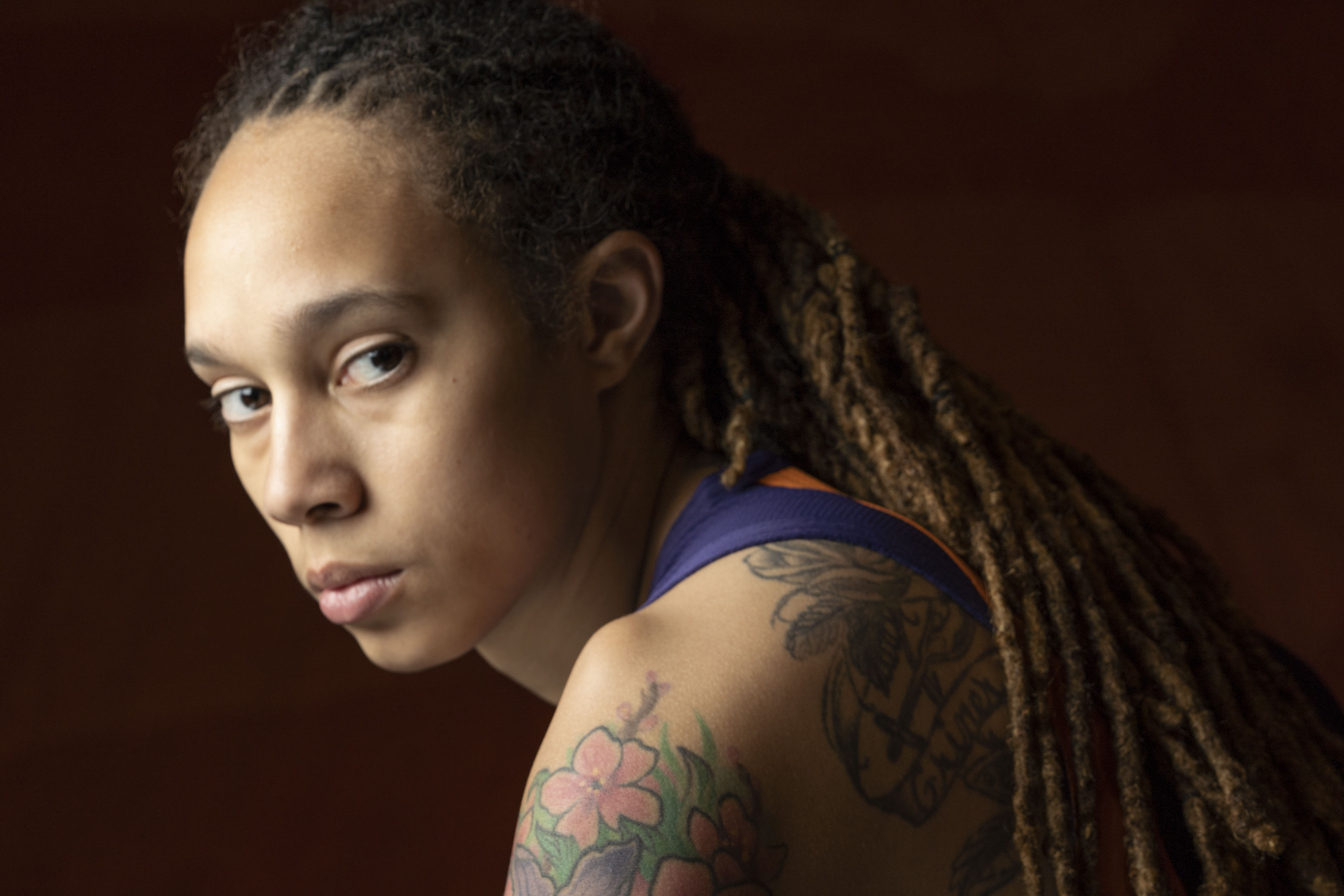 The detention of basketball player Brittney Griner in Russia — where she has been held for three weeks on allegations of drug smuggling — is really "unusual and extremely concerning," US Representative Colin Allred of Texas said Thursday.
Allred said the US Embassy has requested consular access to the WNBA star, "the same way they would for any American who's detained or incarcerated overseas, and that has been denied now for three weeks."
Russia's invasion of Ukraine "does loom over the entire issue" of getting Griner back to the United States, Allred added.
"For Brittany's sake, we don't want her to become a part of this kind of political battle that's going on, and we want to make sure that her rights are respected and that we are able to get access to her, and that she can … get home as quickly as possible," Allred said.
Limited contact: Griner has been in contact with her Russian lawyer, who is "in touch with her agent and her family back home — so we do know that she's OK," Allred said. He said he has also been in contact with Griner's family through the player's agent.
"(Griner's family) should just know that our government, the State Department, folks like myself in Congress on the Foreign Affairs Committee, we're gonna do everything we can to get her home, to get any other American who's been detained unjustly home," he said.
CNN has reached out to Russian officials, the US Embassy in Moscow, and the US State Department for comment on Griner's consular access but has not heard back.
2 hr 25 min ago
Lutsk mayor says at least 1 person killed in explosions, alert system "did not work at all"
From CNN's Olga Voitovych in Kyiv
At least one person was killed by explosions in the Ukrainian city of Lutsk on Friday, the city's mayor Ihor Polishchuk said on his official Facebook page.
"Today at approximately 5:45 there were three explosions. Three missiles hit our military airfield. There is one dead. Information about the injured is being clarified. The SES (State Emergency Service) is working on the spot," he said. 
The city's alert system "did not work at all," and the "military administration and the military will work on this issue," he added.
In the western city of Ivano-Frankivsk, an airfield was also hit and the warning system didn't work, Polishchuk said.
"The Armed Forces of Ukraine did not turn it on. Why didn't they turn it on? Because the missiles were flying at ultra-low speeds or for some other reason, the military will work on it."
He added: "Please do not stand by the window during the explosions, do not take photos and videos and then do not publish them on social networks, because the enemy is tracking all these messages. This is additional information for the enemy. If there are explosions, please proceed to the shelter."
2 hr 31 min ago
Several major cities in Ukraine are "under attack," says presidential aide
From CNN's Radina Gigova in Atlanta and Tim Lister in Kyiv 
Major Ukrainian cities including Dnipro and Lutsk are being "subjected to devastating blows," said Mykhailo Podoliak, an adviser to the head of the Ukrainian President's office on Friday.
Explosions shut down two boiler houses in Lutsk, located in the far west near the Polish border, while three major explosions were reported in the western city of Ivano-Frankivsk, he wrote on Twitter.
"Dnipro is also under attack," he added. "Russia's destructive war against civilians and major cities continues."
The Lutsk mayor reported explosions at an airfield in the city, according to the Ukrainian news agency UNIAN. Lutsk has not been attacked before. 
"Explosions in the direction of the airfield. Everyone in the shelter!" Mayor Ihor Polishchuk is quoted as saying. 
Cities under siege: Ukraine's Emergency Service said one person in the city of Dnipro died on Friday after three airstrikes in the early morning that hit a kindergarten, an apartment building and a two-story shoe factory.
The airstrikes happened at around 6:10 a.m. local time in the Novokodatskyi district of the city, the Emergency Service said. 
3 hr 7 min ago
Zelensky deputy: "We are ready to talk to President Putin anytime he is ready"
From CNN's Zeena Saifi and Becky Anderson
Ukrainian President Volodymyr Zelensky is ready to talk to Russian President Vladimir Putin directly — but "will not make any compromise to the Russian position during these negotiations," his deputy told CNN.
Though talks between the Ukrainian and Russian foreign ministers, held Thursday in the Turkish city of Antalya, did not yield any major breakthrough, Ukraine hadn't been too optimistic from the start, said Igor Zhovkva, Deputy Head of the Office of the President of Ukraine.
"This is a really good thing that they met, but unfortunately we can say that the Minister of Foreign Affairs of Russia is not the one making the final decision. The final decision to stop war, to make a ceasefire, to withdraw troops is made by one person only," he said, apparently referring to Putin.
Zelensky ready to talk: Zhovkva said that though Zelensky was ready for a diplomatic solution, he has not heard from the Russian President personally or his aides.
"The last thing I heard from them was we have to still work under the format of two delegations … But, look, even the agreements reached during these negotiations are not held," Zhovkva said, pointing to humanitarian corridors in Ukraine that are "being kept in custody by Russian forces."
What Ukraine is willing to give: Zhovkva said Ukraine was open to neutrality "if the NATO bloc is not ready for the time being to accept Ukraine."
"But at the same time, we do need hard security guarantees for Ukraine so these awful wars, this awful aggression does not repeat in the future," he added. 
Zhovkva said Ukraine wanted to work with Putin and its neighbors to establish a system he called "the renewed security system of Europe."
"My country, the Ukrainian people deserve to become a part of the European family…Ukraine is fighting for the security of all of Europe. So when (French) President (Emmanuel) Macron talks about possible European security, how can he talk without having President Zelensky at the table? Without having President Zelensky and Ukraine in the European Union?" Zhovkva said. 
1 hr 51 min ago
1 killed in airstrikes near preschool and apartment building in Dnipro, Ukrainian authorities say
From CNN's Matilda Kuklish and Jake Kwon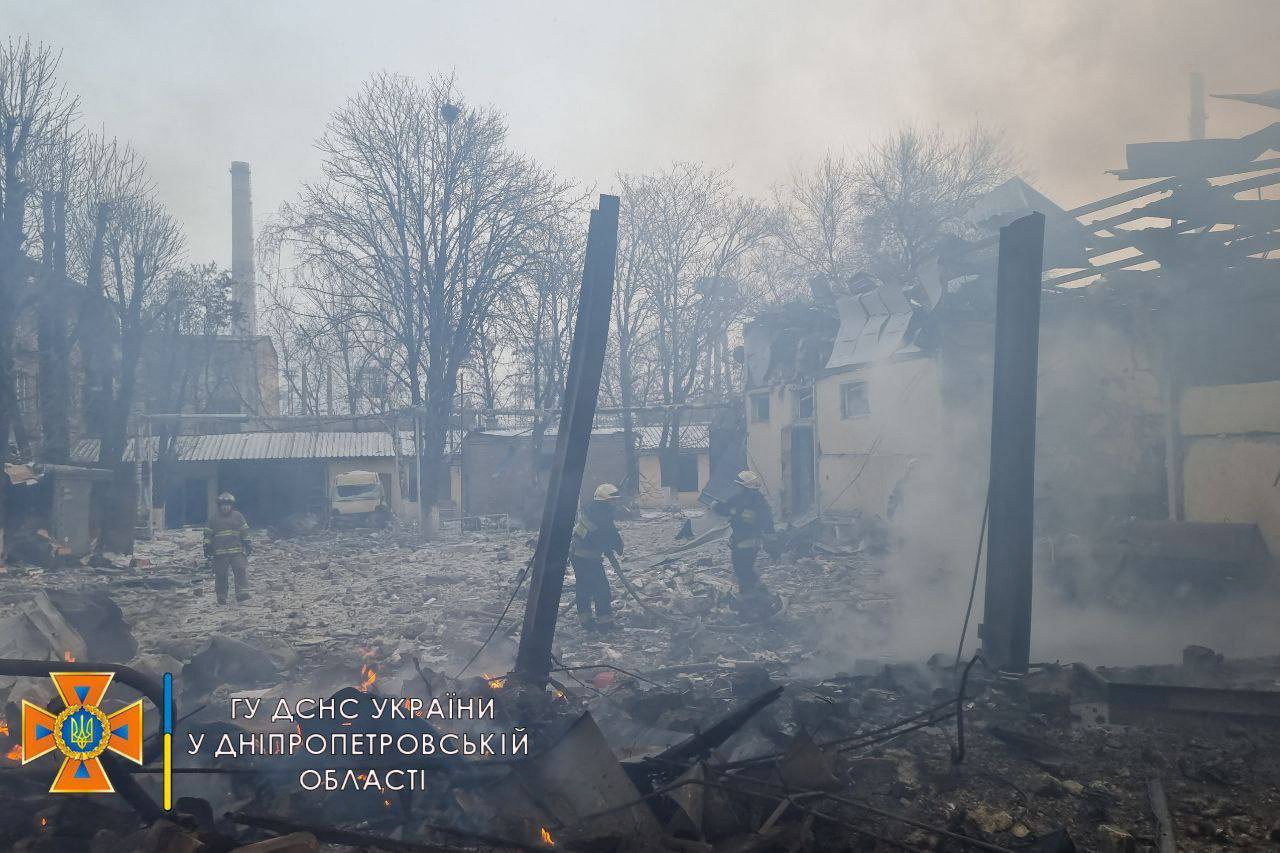 One person was killed in airstrikes Friday morning near civilian structures in the central Ukrainian city of Dnipro, the State Emergency Service of Ukraine said in an official Telegram channel. 
"On March 11 at about 6:10 a.m., there were three airstrikes in Novokodatsky District of Dnipro City, namely: a strike near a preschool and an apartment building, as well as a strike that hit a two-story shoe factory and caused fire," the service said.
Earlier this week, a Ukrainian official said Russia is mounting resources to "encircle" Dnipro, adding that Russia's plan was to "encircle the major cities, exsanguinate the Ukrainian Armed Forces and create a situation of humanitarian catastrophe for civilians." 
3 hr 54 min ago
Analysis: Russia's misinformation offensive impedes diplomatic efforts to end the war
Analysis from CNN's Stephen Collinson
The Russian assault on Ukraine is not just an unprovoked attack on a sovereign nation that is producing horrific destruction and civilian torment. It's also the biggest war of the modern misinformation era.
Russian President Vladimir Putin and his mouthpieces are weaving the most audacious and fatuous alternative reality surrounding any 21st-century conflict — one that renders current diplomatic efforts aimed at ending the war meaningless and futile.
Denying a Russian attack: On Thursday, for instance, Russian Foreign Minister Sergey Lavrov claimed with a straight face after talks with his Ukrainian counterpart in Turkey —  which, not surprisingly, failed — that Russia "did not attack Ukraine."
Not only was Lavrov's claim a lie, as the world knows, it was especially offensive since it came a day after a horrific Russian attack on a children's and maternity hospital in Ukraine that has been widely denounced as a war crime. And it coincided with unfounded claims from Moscow, which were even picked up by China in its efforts to boost Russian propaganda, that the United States had a bioweapons program in Ukraine, which officials in Washington fear could be laying a pretext for Russia's own use of chemical or biological weapons against civilians.
"Unfortunately, I can confirm that the Russian leadership, including Minister Lavrov, live in their own reality," Ukrainian Foreign Minister Dmytro Kuleba told CNBC on Thursday. "He told me looking in my eyes that the pictures of pregnant women being taken from under the rubble of the maternity house are fake."
Misinformation warfare: This has long been a weapon of the Russian state. Moscow spun multiple conspiracy theories about the shooting down of a Malaysian airliner over eastern Ukraine in 2014, apparently by a Russian missile system, for instance.
And Russian state media aired an interview in which two alleged spies blamed for using a nerve agent to poison a Russian defector in England in 2018 absurdly claimed they were in the country to visit a famed cathedral spire in the city of Salisbury.
But the misinformation offensive has hit a new peak in the war on Ukraine.