7 hr 2 min ago
Dogs of war: the pets left behind by Russia's invasion of Ukraine
From CNN's Sara Sidner and Anna-Maja Rappard
A dehydrated German shepherd stands on Jakub Kotowicz's operation table, her tumor protruding from one of her mammary glands.
Named Moon by the staff at the ADA foundation — a no-kill animal shelter in Przemysl, Poland, just 30 minutes from the border with Ukraine — she's one of the many animals that have been displaced by Russia's invasion of Ukraine.
"We have to remove this tumor so she will need to have surgery," Dr. Kotowicz says as he pets Moon's head. "I hate to see them suffering like this."
In recent days, ADA Foundation staff members have been risking their lives driving into Ukraine to help empty out shelters, where animals are in danger of being abandoned and then starving to death as war surrounds them.
Read more here: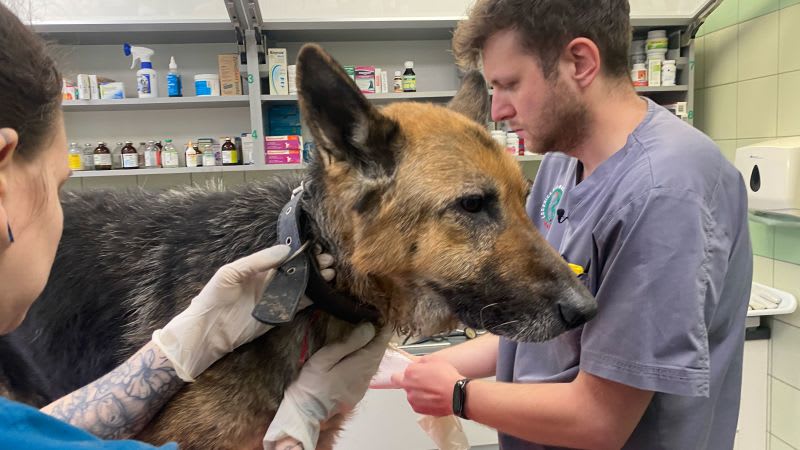 7 hr 44 min ago
Russian strikes around Kyiv wipe out hotel and electricity in Chernihiv, an airport in Vasylkiv
From Tim Lister in Kyiv and Olga Voitovych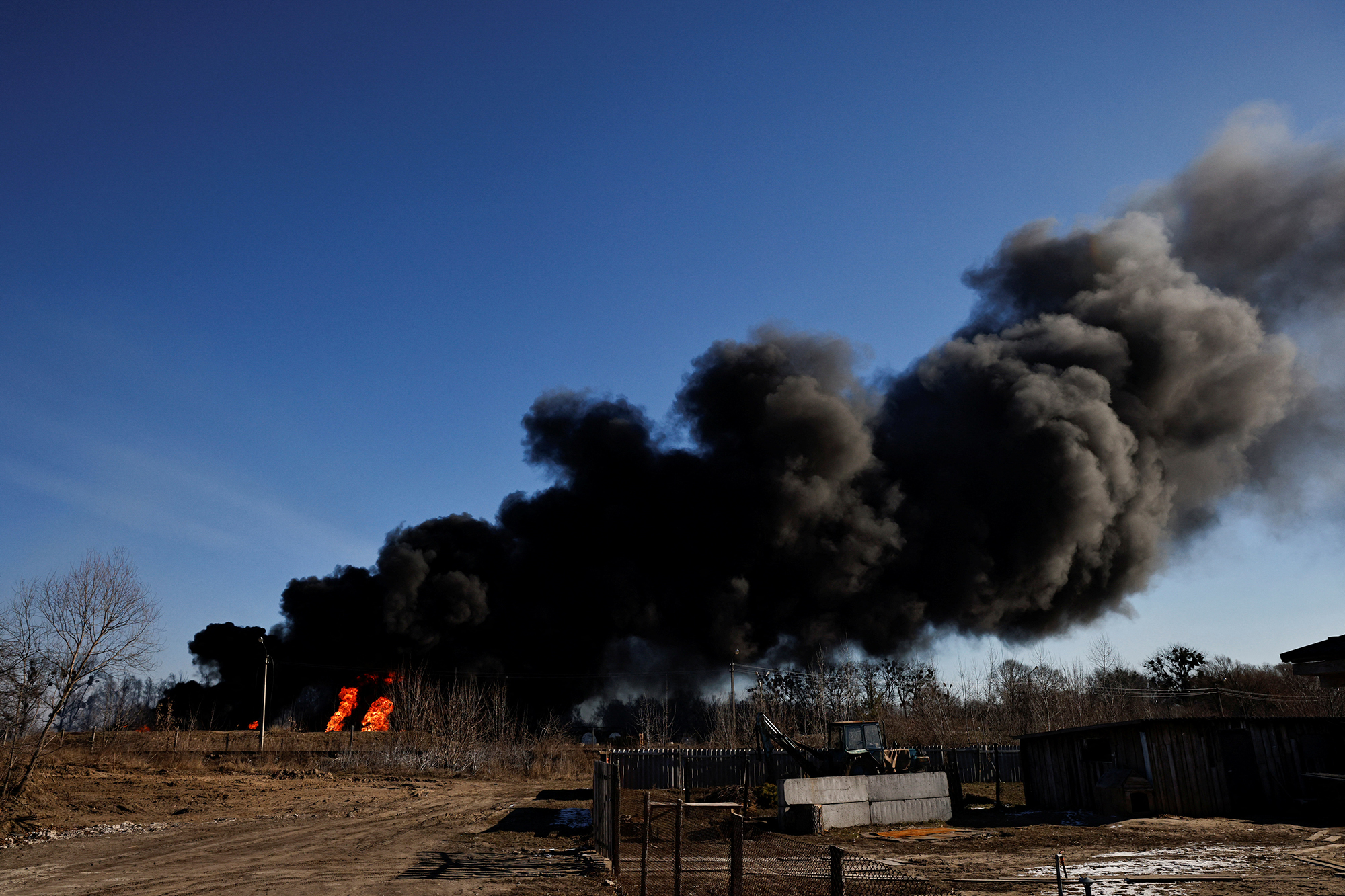 Russian missile and air strikes caused damage to the north and south of the Ukrainian capital in the early hours of Saturday, according to local officials.
In Chernihiv, some 100 kilometers north of Kyiv, the hotel Ukraine — a landmark in the city — was hit overnight.
"I am here now. There is no hotel anymore," Vyacheslav Chaus, head of Chernihiv region administration, said Saturday.
The enemy continues to launch air and missile strikes on the city of Chernihiv. Civilians are dying, many people are being injured. The enemy shells civilian infrastructure, where there is no military," he said. 
Chernihiv has been surrounded by Russian forces for more than a week and video from the city shows widespread damage from missiles and airstrikes.
Chaus added that the city has "no electricity, almost no water, gas, and heat," and while efforts to restore electricity on Friday were successful "the enemy hit an electricity network again."
Social media video from Vasylkiv, south of Kyiv, showed a fuel dump on fire after a strike in the early hours of Saturday, and the military airfield there appears to have been heavily damaged. 
Nataliia Balasynovych, the town's mayor, said on Facebook: "Today at about 7 a.m. enemy forces shelled the city of Vasylkiv. Eight missiles hit, shelled the airport. As a result of the missile strikes, the airport was completely destroyed, the runway was destroyed."
She added that an "ammunition depot also detonated. Ammunition is still detonating because one of the missiles hit the ammunition depot. The warehouse with fuels and lubricants was also destroyed. As a result, the capacity of our airport has been completely eliminated."
The Russian Ministry of Defense had said earlier that a high-precision long-range weapon struck the military airfield in Vasylkiv.
7 hr 48 min ago
Pregnant woman who survived the Mariupol maternity hospital bombing gives birth
From CNN's Gianluca Mezzofiore in London
A pregnant woman, whose rescue from the Mariupol maternity hospital this week was captured in a viral AP photo, has given birth to a baby girl, her family confirmed to CNN. 
Mariana Vishegirskaya was among a number of women at the Mariupol maternity hospital who survived the shelling.
She delivered her baby in another hospital on Thursday, her aunt Tatiana Liubchenko said. "According to our conversations this [Friday] morning, Marianna was doing well and they named her daughter Veronica," Liubchenko said. 
They called around 10 am [Friday]. Last night, she gave birth at 10:30 pm and the baby was born healthy and around 3 kg, but there was no electricity," Liubchenko said. 
Vishegirskaya's aunt worries about the deteriorating conditions in the besieged city of Mariupol. "But we got the information that the water and food of the people there are running out and we are very worried, because the green corridor is not opened and the Russians do not allow, the food does not come. And it's so cold there right now so they can't get warm. I think she gave birth in hospital number 2 in Mariupol," Liubchenko added.  
I hope sufficient conditions will be provided for the baby to stay healthy," she added. 
The family tried to call Vishegirskaya back throughout the day, but their efforts were unsuccessful. 
7 hr 58 min ago
More evacuation corridors from Ukrainian cities to open Saturday, officials say
From Wayne Chang in Hong Kong, Yulia Sevchenko in Atlanta and Josh Pennington in Columbus, Ohio
At least 13 evacuation corridors from different Ukrainian cities, including the besieged eastern city of Mariupol, will be open on Saturday for civilians, said Ukraine's Deputy Prime Minister Iryna Vereshchuk.
"Today, a convoy with humanitarian cargo and buses for the evacuation of people (…) is departing from the city of Zaporizhzhia to the city of Mariupol, Donetsk Region, through the following populated localities: Zaporizhzhia, Melitopol, Vasylivka, Berdyansk, Mangush, Mariupol, with mandatory mine sweeping along the entire route," Vereshchuk said Saturday in a video message.
"I very much hope that today will be a success, all the planned routes will be open and Russia will adhere to the ceasefire obligations it took on," Vereshchuk added.
In a separate interview with Ukrainian state TV Saturday morning local time, Interior Ministry adviser Vadym Denysenko said he "hopes" the corridors "that were supposed to open yesterday will open today," including the one for Mariupol.
This would be the sixth attempt to establish a route from Mariupol, as previous efforts to evacuate residents have largely failed. 
Ukrainian authorities reported limited success in securing the evacuation of Ukrainian civilians from the other worst-affected areas Friday.
8 hr 15 min ago
Escaping the horror in Ukraine is not an option for many disabled children and their families
From CNN's Ivana Kottasová and Yulia Kesaieva
Vova doesn't know there is a war raging right outside his window.
He doesn't understand the meaning of the air raid sirens. He is unaware of the destruction caused by Russian bombs dropping on Kyiv. He just wants to build towers with his toy blocks and press the buttons on his mom's phone that make it play songs and cartoons he likes.
Vova, a pet name for Volodymyr, is 17 and has Opitz-Kaveggia syndrome, a rare genetic condition that causes severe intellectual disabilities. He needs round-the-clock care and anti-seizure medication that has become impossible to obtain as Russian troops close in on the Ukrainian capital, according to his mother, Natalia Komarenko.
"We can't take him by train, because at any moment he may have a seizure and his temperature may rise. He may not always voice his need to go to the bathroom, and he can't be left unattended even for a minute," Komarenko said, adding that driving is also dangerous, in case he has a seizure.
Vova and his family are among thousands of Kyiv families that cannot leave the city because of health conditions that make travel extremely risky.
Komarenko heads a charitable foundation called Z teplom u sertsi (Ukrainian for "With Warmth in the Heart"). The group brings together and creates support networks for Kyiv families living with disabilities. Only 20 to 50 of the 1,247 families in the group — around 260 people in all — have been able to flee the capital, according to Komarenko.
The European Disability Forum, a pan-European NGO, estimates there are 2.7 million people with disabilities in Ukraine. According to Inclusion Europe, another NGO, there are around 261,000 people in Ukraine with intellectual disabilities that make them extremely vulnerable to the conflict.
At least 100,000 of them, mostly children, live in care homes and institutions. Their chances of getting out of the country are slim.
8 hr 37 min ago
Humanitarian convoy heads for Mariupol
From Tim Lister in Kyiv and Olga Voitovych
Yet another attempt is being made Saturday to get humanitarian aid into the besieged southeastern city of Mariupol and bring thousands of civilians out.
The city has been under heavy fire from Russian forces for more than a week, and the city council said Friday nearly 1,600 people had been killed.
On Saturday the council announced that "a green corridor is open. A humanitarian convoy departed from Zaporizhzhia to Mariupol. More than 90 tons of food and medicine are going to the city, which is under siege for 11 days."
The council said that, for the second consecutive day, priests of the Orthodox Church had joined the convoy.
The Mariupol "green corridor" is one of several announced by the Ukrainian government in order to get humanitarian aid into areas worst affected by the fighting and help thousands of people to leave areas without power and water and under heavy shelling.
City under siege: Routes from Mariupol and Volnovakha have been repeatedly blocked or inaccessible over the past week. On Friday, Oleksii Reznikov, the Defense Minister, described the situation in Mariupol as very difficult. He accused the Russians of bombing the city even during official negotiations.
Doctors without Borders (MSF) on Friday warned of an "extremely dire" humanitarian situation in the city where their teams report "that many families do not have enough water, food, and medicine."
8 hr 59 min ago
No diplomatic off-ramp in sight for Russia's war in Ukraine
From CNN's Kylie Atwood, Jennifer Hansler and Jeremy Herb
With Russia's war in Ukraine now in its third week, US and European officials have little optimism that the diplomatic channels can deliver a way out of the conflict at this point.
Talks between Ukraine's and Russia's diplomats this week yielded no discernible progress. Supposedly safe evacuation routes out of the country have repeatedly been contested. The civilian death toll continues to rise, and by the end of the week both sides were trading accusations over the use of chemical weapons.
While Russian President Vladimir Putin said Friday there had been "certain positive advances" in negotiations with Ukraine, US and European officials and diplomats who spoke to CNN all expressed deep skepticism about the state of talks. None felt Putin's actions to date have suggested the Russian leader is ready to find a diplomatic off-ramp to end the war.
The US and its allies have enacted crippling sanctions on Russia in response to its invasion of Ukraine, and US President Joe Biden has kept in touch with European leaders as well as Ukrainian President Volodymyr Zelensky. But US officials have privately acknowledged they don't believe any of these sanctions are going to change Putin's thinking, and many don't believe Russia's losses in Ukraine will either.
Read the full story:
9 hr 20 min ago
Protest in Melitopol against mayor's arrest by Russian forces
From CNN's Tim Lister in Kyiv and Josh Pennington
Several hundred people protested outside the city hall in the southern Ukrainian city of Melitopol after the arrest of the mayor Ivan Fedorov by Russian forces Friday.
"Freedom for the Mayor" and "Fedorov," chanted the crowd, according to a short video by Ukrainian state TV on its Facebook page. It reported that more than 2,000 people flocked to the occupied building demanding the official's release
Russian forces occupied Melitopol within days of the invasion beginning in late February, but the city has seen sporadic protests since.
This comes after Fedorov was seen on video Friday being led away from a government building in the city by armed men. A short time later, the Russian-backed Luhansk regional prosecutor claimed that the mayor had committed terrorism offenses and was under investigation.
Ukraine's President Volodymyr Zelensky called Fedorov's arrest a "crime against democracy" in a Facebook video Friday.
Today in Melitopol the invaders captured mayor of the city, Ivan Fedorov, a mayor who courageously defends Ukraine and the people of his community. Obviously, this is a sign of the weakness of the invaders. They did not find any support on our land, although they counted on it. Because for years they've been lying to themselves that people in Ukraine were supposedly waiting for Russia to come," he said.
8 hr 21 min ago
Russia's richest businessman tells Putin: Don't take us back to 1917
From CNN's Mark Thompson in London
Russia's richest businessman has warned the Kremlin against confiscating assets of companies that have fled in the wake of the invasion of Ukraine, saying such a step would set the country back more than 100 years.
Vladimir Potanin, president of metals giant Norilsk Nickel (NILSY) and its biggest shareholder, said that Russia risked returning to the tumultuous days of the 1917 revolution if it slammed the door on Western companies and investors. He urged the Russian government to proceed with extreme caution regarding the seizure of assets.
Firstly, it would take us back a hundred years, to 1917, and the consequences of such a step — global distrust of Russia on the part of investors — we would experience for many decades," he said in a message posted on Norilsk Nickel's Telegram account on Thursday.
"Secondly, the decision of many companies to suspend operations in Russia is, I would say, somewhat emotional in nature and may have been taken as a result of unprecedented pressure on them from public opinion abroad. So most likely they will come back. And personally, I would keep such an opportunity for them," he added.
Potanin is Russia's wealthiest billionaire and still worth about $22.5 billion, according to Bloomberg, despite losing about a quarter of his fortune this year as shares in Norilsk Nickel crashed. The company's shares lost more than 90% in London trading before they were suspended this month, despite soaring prices for its commodities.
Read the full story: