16 min ago
The city of Chernihiv is "suffering great losses," says regional head
From Yulia Kesaieva and Andrew Carey in Lviv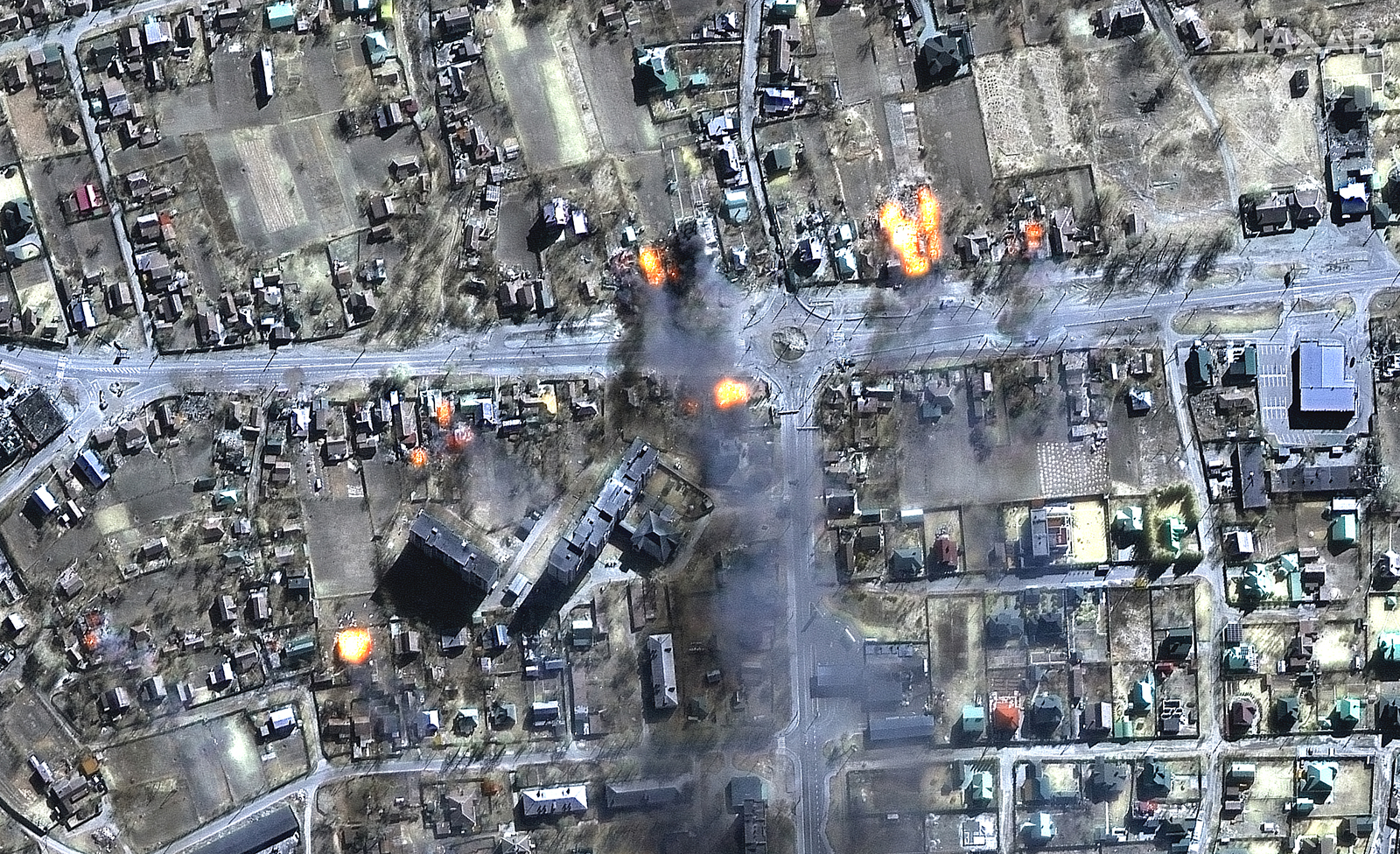 The head of the Chernihiv region, northeast of Kyiv and close to the Russian border, has said that Chernihiv city is "suffering great losses" as it comes under a sustained attack from Russian forces.
"The enemy continues systematic artillery and air strikes of our regional center, destroying civilian infrastructure," Vyacheslav Chaus wrote on Telegram.
"Just yesterday [Wednesday], 53 bodies of our dead citizens, killed by the Russian aggressor, were brought to the city morgue."
Some context: Chernihiv has seen some of the worst attacks since Russia's invasion began three weeks ago, including a strike on an apartment complex on March 4 in which at least 33 people were killed, according to officials, and an attack yesterday on a line of people queueing to buy bread.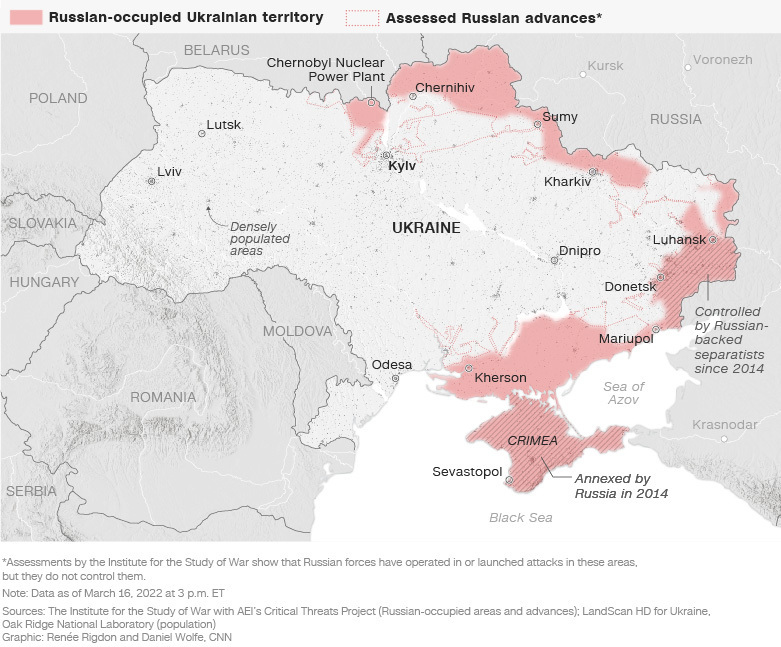 27 min ago
UN Security Council to meet Thursday over humanitarian situation in Ukraine
From CNN's Richard Roth
The UN Security Council will hold a meeting on the humanitarian situation in Ukraine at 3 p.m. ET today.
The meeting was requested by the United States, Albania, United Kingdom, France, Ireland and Norway, according to a tweet from Norway's UN Mission in New York.
The UN Department of Political and Peacebuilding Affairs, the UN Refugee Agency and the World Health Organization will brief at top of the session, Norway's mission tweeted.
30 min ago
"I'm homeless, I have nothing, but the dogs are saved": Fleeing home with more than 20 pets in tow
From Oleksandra Ochman in Lviv
When fighting broke out in her town of Irpin, Anastasia and her husband decided to leave — along with 19 dogs, cats and a hamster.
Anastasia told CNN she has been fond of dogs her entire life, so there was no question about whether the dogs should accompany them as they traveled on foot across the bridge to Kyiv.
"There were two dogs in their wheelchairs. Another one, without hind legs, did not want to ride in a wheelchair. He traveled part of the way in my arms, and part of the way he walked on his stumps," she told CNN.
"I only thought that the dogs were carrying me forward and I was not sure I could slow down and stop in front of the river. Almost all the dogs are large, more than 10 kilograms (22 pounds)."
At first, the dogs were frightened by the large crowds and tried to turn back and go home, Anastasia said.
But she added that they are no longer scared of the sounds of war, having grown used to the constant noise of shelling and explosions.
A volunteer driver met the party on the other side of the bridge, taking them to safety.
"Our territorial defense helped a lot. They ran into us, took old and disabled dogs, cat carriers and a hamster and brought them out in a car," said Anastasia.
"Unfortunately, four of my dogs got lost, but one of them was found and adopted by the territorial defense."
Anastasia and her dogs are currently living in a small cats' home near Kyiv. The dogs are set to be taken to Poland and the Czech Republic.
"I'm homeless, I have nothing, but the dogs are saved," she added.
1 hr 2 min ago
Ukraine says nine evacuation corridors are agreed, including from battered city of Mariupol
From CNN's Andrew Carey and Yulia Schevchenko
Nine evacuation routes leading out of different Ukrainian cities, including the besieged southeastern city of Mariupol, have been agreed for Thursday, the Ukrainian government said.
The corridors are designed to allow safe transport of humanitarian aid into the cities, and safe passage out for residents who want to leave.
In recent days, an increasing number of private vehicles have made it out of Mariupol even though a formal corridor has not been in place. A humanitarian convoy destined for the city has been stuck in Berdiansk, some 80 kilometers (50 miles) to the west, for days.
Iryna Vereshchuk, the Ukrainian minister responsible, said other corridors have been agreed in the Kyiv region, including from Borodianka to Zhytomyr, and from Shevchenkove village to Brovary.
Additionally, Vereshchuk said the government is planning to deliver humanitarian aid to the towns of Hostomel and Bucha, as well as to the villages of Semypolky, Markivtsi and Opanasiv.
Some context: Ukrainian President Volodymyr Zelensky said evacuation corridors did not work on Wednesday as the Russian military did not stop shelling, disrupting the movement of residents trying to escape from Mariupol.
1 min ago
The pilot who bombed a Mariupol theater is a "monster," says Ukrainian defense minister
From CNN's James Frater in Brussels
U
akraine's defense minister ksii Reznikov said Thursday that the Russian who bombed a theater being used as a civilian shelter in the besieged city of Mariupol is a "monster." 
Reznikov told the European Parliament via video link that the pilot dropped the bomb despite the fact it had the word "children" written in large letters on two sides of the building.
It is not clear how many survived the attack. People have been emerging from the shelter alive on Thursday, according to a short statement posted on Facebook by the former head of the Donetsk region.
"You've probably already heard that this theater which was struck by missiles, a theater where 1,200 women and children were hiding," Reznikov added to the European Parliament. 
"And you can see from the maps, from the drones that around this theater, big letters of 'children' were written so that the pilot of the plane which was throwing the bombs could see 'children', and still, in spite of that, this monster has bombed the theater."
CNN geolocated the image and satellite images show the word "children" spelled out beside the building before it was bombed.
1 hr 38 min ago
China backs ambassador's pledge to support Ukraine, but dodges question on military aid
From CNN's Beijing Bureau and Hannah Ritchie
China endorsed remarks made by its ambassador to Ukraine on Thursday after the Chinese diplomat pledged Beijing's political and economic support for the war-torn country.
"China absolutely supports the remarks made by the ambassador," said Foreign Ministry spokesman Zhao Lijian at a regular press briefing.
"China supports all efforts that are conducive to easing the situation in Ukraine and a political settlement. [China] is ready to do its part to overcome the humanitarian crisis," he added.
But in a sign of Beijing's possible attempt to play both sides, Zhao declined to say if Beijing's support for its ambassador's remarks means China will not offer weapons or other assistance to Russia to support the military invasion in Ukraine.
"That's your own interpretation," he said, responding to a reporter's question on the topic. "China has made repeated statements. There is no reason for you to make such a connection."
Fan Xianrong, the Chinese ambassador to Ukraine, pledged Beijing's support and praised the Ukrainian people in a meeting in Lviv on Monday, according to a press release from the regional government.
"China will always be a force of good for Ukraine both economically and politically," Fan was quoted as saying to Maksym Kozytsky, the head of the regional administration in Lviv. "China will never attack Ukraine. We will help, especially economically."
"In this situation, which you have now, we will act responsibly. We have seen how great the unity of the Ukrainian people is, and that means its strength," he continued, adding that the Chinese embassy had moved from Kyiv to Lviv and would remain there for the time being.
As of Thursday afternoon, Fan's remarks had not been reported by China's state media, which has largely been parroting the Kremlin's talking points since the Russian invasion began.
On Tuesday, China's ambassador to the US Qin Gang published an op-ed in the Washington Post reiterating that Beijing wanted to see an end to the conflict in Ukraine and dispelling "rumors" that "China knew about, acquiesced to or tacitly supported" the war.
"Conflict between Russia and Ukraine does no good for China. Had China known about the imminent crisis, we would have tried our best to prevent it," Qin wrote.
His comments followed assertions from US intelligence officials that Russia had asked China for military support in Ukraine. Beijing and Moscow have both denied the claims.
2 hr 3 min ago
People are emerging from the bombed Mariupol theater building, Ukrainian official says
From CNN's Victoria Butenko in Lviv
People sheltering at a theater in Mariupol that was struck by a Russian bomb on Wednesday are emerging alive, according to a short statement posted on Facebook Thursday by the former head of the Donetsk region.
"After an awful night of not knowing, we finally have good news from Mariupol on the morning of the 22nd day of the war. The bomb shelter [of the theater] was able to hold. The rubble is beginning to be cleared. People are coming out alive," Sergei Taruta wrote.
It is not yet clear if this means all those inside the building have survived. Hundreds of people were believed to have taken shelter in the theater.
Some context: Mariupol City Council, which shared an image of the destroyed building, said Russian forces had "purposefully and cynically destroyed the Drama Theater in the heart of Mariupol."
"The plane dropped a bomb on a building where hundreds of peaceful Mariupol residents were hiding," it said.
CNN geolocated the image and confirmed it is of the theater in the southeastern port city. The word "children" was spelled out on two sides of the theater before it was bombed, according to satellite images.
Videos of the aftermath showed a fire raging in the theater's ruins. The number of casualties is unknown, authorities said.
1 hr 57 min ago
Zelensky cites post-Holocaust phrase Never Again in address to German lawmakers
From CNN's Inke Kappeler in Berlin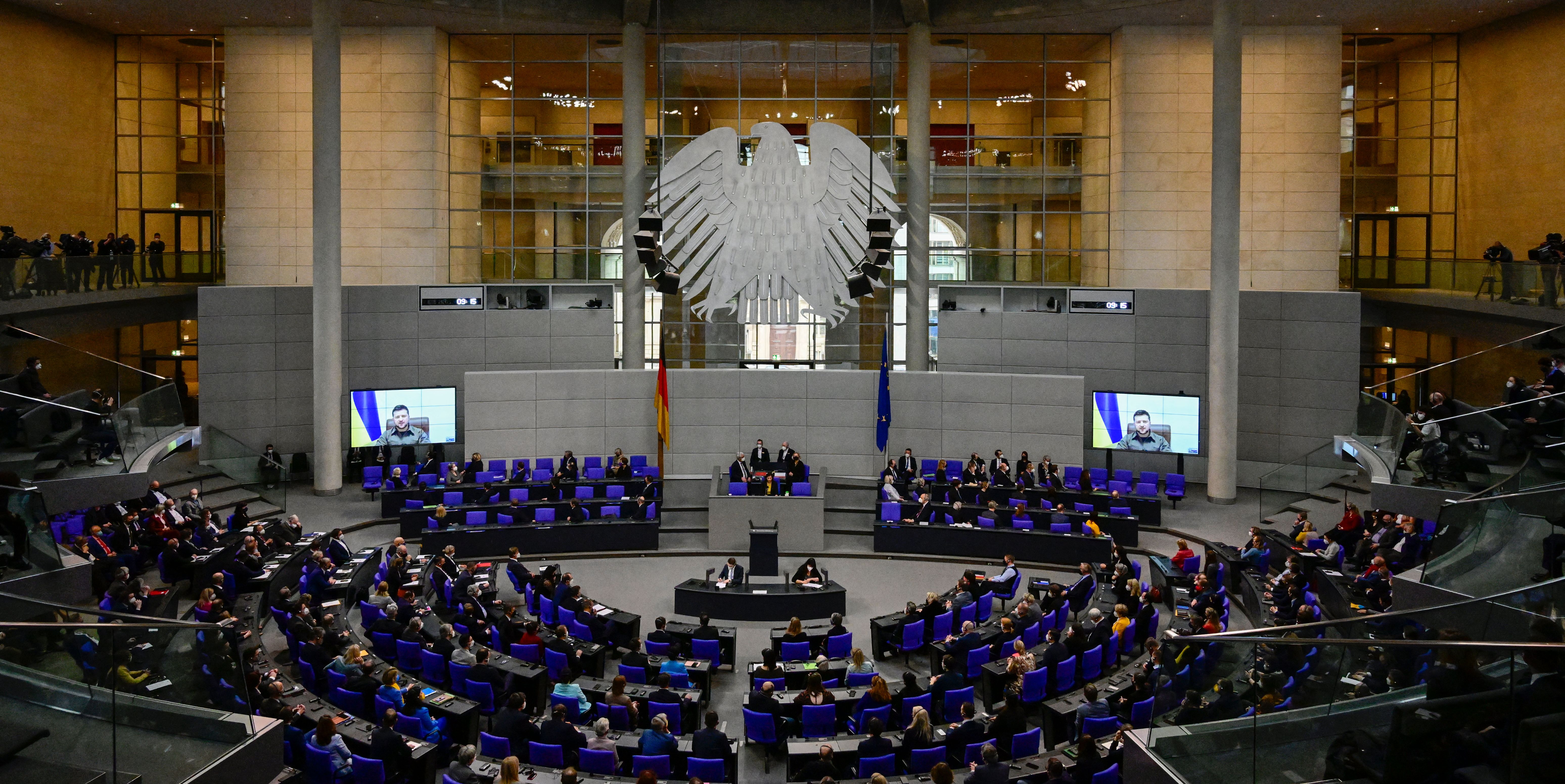 Ukrainian President Volodymyr Zelensky made explicit reference to the Holocaust in an address to German lawmakers Thursday.
"Every year politicians say never again. Now I see that these words are worthless. In Europe a people is being destroyed," he said while speaking to lawmakers via a video address at the Bundestag.
Watch:
2 hr 54 min ago
Over 1.9 million refugees have entered Poland from Ukraine
From CNN's Antonia Mortensen
More than 1.9 million refugees have entered Poland from Ukraine since Russia invaded the country on Feb. 24, the country's Border Guard agency said in a tweet Wednesday.
Of those:  
About 593,000 people, or 31% of the refugees, entered Poland by passenger cars.
About 440,000 people, or 23%, entered by buses.
About 402,000, or 21%, entered on foot.
And about 210,000, or 11%, entered by trains, according to the country's Border Guard agency. 
Overall, more than 3 million people have fled Ukraine since the invasion, according to the UN Refugee Agency, with the majority of those refugees going to Poland, Romania, Moldova, Hungary and Slovakia.
The population of Ukraine was more than 43 million people before the invasion.