4 hr 2 min ago
US officials confirm Russia launched powerful hypersonic missiles against Ukraine. Here's what we know
US officials confirmed to CNN that Russia launched hypersonic missiles against Ukraine last week, the first known use of such missiles in combat.
Here's what we know about the weapon:
Russia's Ministry of Defense said Saturday it had launched hypersonic missiles against a military ammunitions warehouse in western Ukraine on Friday.
It said the missiles destroyed the structure in the Ukrainian village of Delyatin. CNN is unable to independently verify this claim. 
The defense ministry claimed it used its hypersonic "Kinzhal" missiles.
"On March 18, the Kinzhal aviation missile system with hypersonic aeroballistic missiles destroyed a large underground warehouse of missiles and aviation ammunition of Ukrainian troops in the village of Delyatin, Ivano-Frankivsk region," the ministry said. 
Why were they used?
US officials confirmed to CNN that Russia launched hypersonic missiles against Ukraine last week and were able to track the launches in real time.
The launches were likely intended to test the weapons and send a message to the West about Russian capabilities, multiple sources told CNN.
What are hypersonic missiles?
Traveling at Mach 5 speed or faster (five times the speed of sound), hypersonic missiles fly into space after launch, but then come down and fly on a flight path similar to an airplane.
That low trajectory, coupled with high-speed and maneuverability make hypersonic missiles difficult for US missile defense satellites and radars to detect.
The Pentagon has made developing hypersonic weapons one of its top priorities, particularly as China and Russia are working to develop their own versions. 
4 hr 2 min ago
Ukraine claims another Russian general killed during heavy fighting in southern Ukraine
From CNN's Tim Lister
A Ukrainian attack on an airfield in the south of the country last week killed a Russian general, according to the Ukrainian military's General Staff.
Amid heavy fighting between the cities of Mykolaiv and Kherson, Ukrainian forces carried out an attack on the airport at Chornobayivka, just north of Kherson, on Wednesday.
The airport was occupied by Russian forces and served as a forward command post of Russia's 8th Guards Combined Arms Army, according to Ukrainian officials.
Images and video geolocated by CNN showed three helicopters and multiple vehicles on fire at the airport.
Soon after the attack, Ukraine's Defense Minister Oleksii Reznikov said, "Burning enemy helicopters in Chornobayivka in the Kherson region is a demonstration of what is now happening to the occupying forces."
Ukraine's General Staff later said, "according to preliminary data" Russian Lieutenant-General Andrei Mordvichev, commander of the 8th Guards, had been killed.
CNN cannot independently verify the Ukrainian claim. Ukraine says that five Russian generals have been killed since the invasion began on Feb. 24.
4 hr 2 min ago
Two children killed in shelled building collapse during Russia's attack in eastern Ukraine
From CNN's Andrew Carey, Oleksandra Ochman, Olga Voitovych and Yulia Kesaieva
While Ukraine's army reported little in the way of offensive operations by Russian forces around Kyiv and in parts of the south on Saturday, further east fighting continued to rage.
Two children were killed in the town of Rubizhne after being pulled from the rubble of a residential building pummeled by Russian artillery fire, the emergency services said. 
A woman also died in the same building collapse; her daughter survived and was in a stable condition.
Some context: Rubizhne is part of a cluster of small towns and villages that remain in Ukrainian hands but lie close to two breakaway pro-Russian statelets inside eastern Ukraine.
The Ukrainian army's most recent assessment of the war makes clear they are seen as a current focus of Russia's campaign in the east — to link the two strongholds around Luhansk and Donetsk with territorial gains made to the northwest in the region around Kharkiv.
Saturday's daily update from the army's central command — released in the early afternoon — reported a series of Russian offensives with "the main efforts focused on attempts to capture Severodonetsk, Rubizhne and Popasna."
Further deaths and destruction: On Friday, four people were killed and ten others injured as Russian artillery opened up across a series of communities in the region, local Ukrainian authorities said. 
Regional head Serhii Haidai said a total of 54 buildings had been hit, including 19 apartment blocks and two health care centers.
Some 23 towns and villages were without gas supplies and 26 were without electricity by the day's end.
Many of those wounded in recent days were among 700 people evacuated through a humanitarian corridor on Saturday, Haidai reported. 
1 min ago
Mariupol residents forced to go to Russia against their will, city council says
From Olga Voitovch in Lviv
Residents of Mariupol, Ukraine, are being taken to Russian territory against their will by Russian forces, according to a statement Saturday from the Mariupol City Council.
"Over the past week, several thousand Mariupol residents have been taken to Russian territory. The occupiers illegally took people from the Livoberezhny district and from the shelter in the sports club building, where more than a thousand people (mostly women and children) were hiding from the constant bombing," the statement read.
Captured Mariupol residents were taken to camps where Russian forces checked their phones and documents, the city council said, and then were redirected to remote Russian cities.
The besieged city is under almost constant bombardment, according to a major in Ukraine's army, and residents are rationing food and water as bodies are left in the streets.
There are also conflicting reports over the status of one of Ukraine's key industrial facilities, the Azov steel plant, in Mariupol. New satellite imagery shows the destruction of the city's bombed theater, with the word "children" clearly visible on the outside of the building.
The statement quoted Mariupol Mayor Vadym Boichenko, who said, "What the occupiers are doing today is familiar to the older generation, who saw the horrific events of World War II, when the Nazis forcibly captured people."
t is hard to imagine that in the 21st century people can be forcibly taken to another country," he added.
4 hr 3 min ago
New satellite image shows massive damage to Mariupol theater after bombing
From CNN's Andrew Carey in Lviv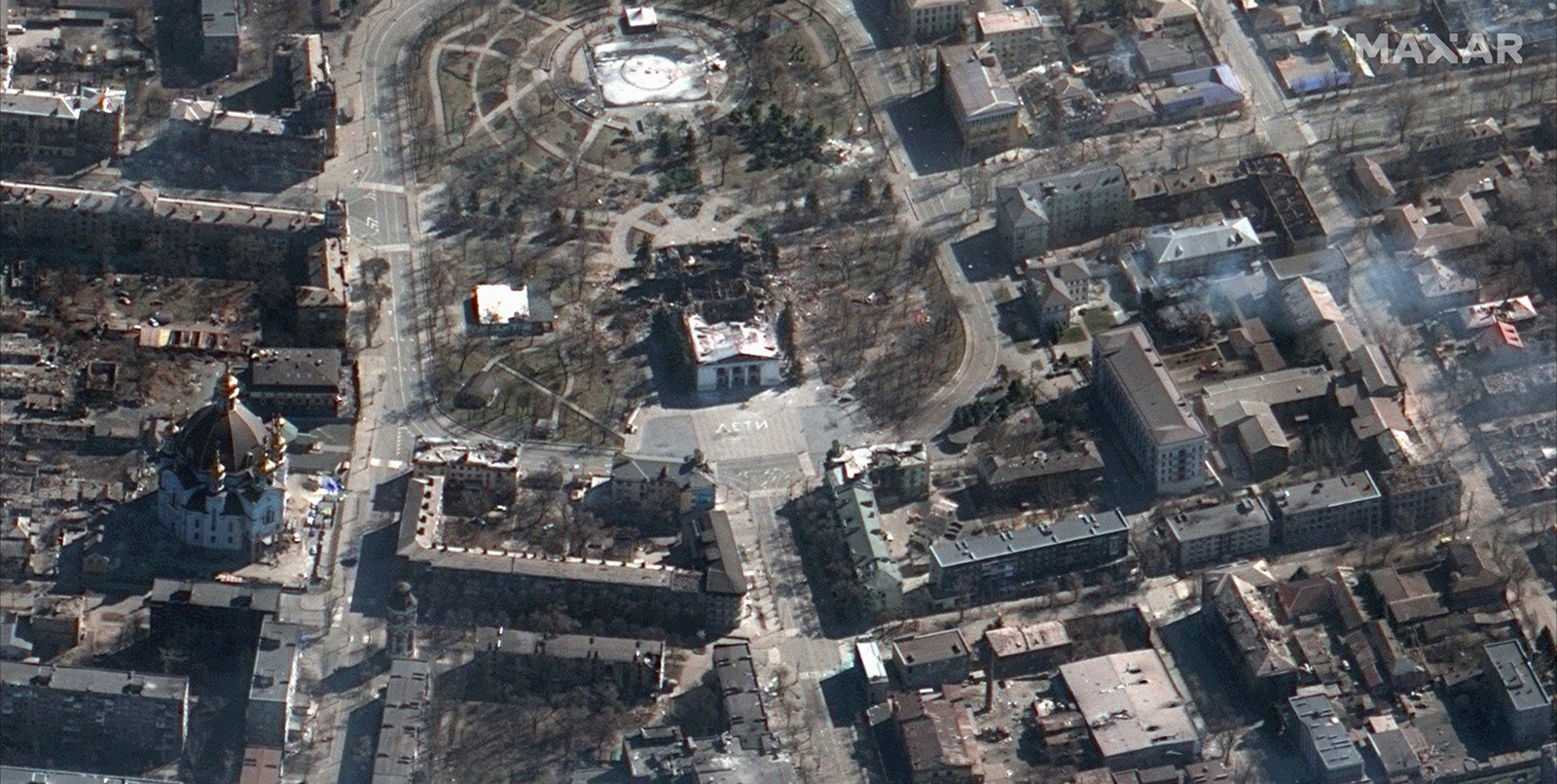 A new satellite image shows the state of the destruction of a theater in Mariupol when it was bombed three days ago.
An image taken Saturday by the Maxar Technologies satellite imagery provider shows about two-thirds of the building completely destroyed, with just the western façade still standing.
Still clearly visible in the photo is the Russian word for "children" painted in large letters on the ground in front of the entrance.
The theater was being used as a shelter as well as the city's main humanitarian assembly, according to authorities. Estimates of the number of people inside at the time of the attack range from 800 to 1,300.
Early reports the morning after the strike suggested the building's bomb shelter had survived, but reports of efforts to rescue survivors have been difficult to ascertain.
Communications in the besieged city have been sporadic for days, and rescue work has been hampered by the danger of near-continuous shelling, according to reports from inside the city.
Initial reports suggested many survivors had to dig themselves out of the rubble.
Various Ukrainian officials have put the number of survivors at 130, with one person described as having serious injuries.