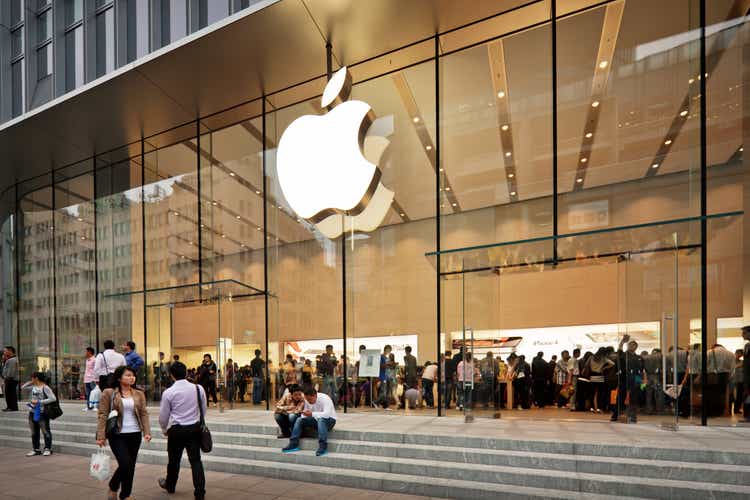 Apple (NASDAQ:AAPL) grabbed its usual amount of headlines this past week, but it had plenty of company in the spotlight

as thanks to chips, China and Uber (

NYSE:UBER

).

The European Union took aim at tech kingpins such as Apple (AAPL), Facebook's Meta Platforms (FB), Google (GOOG) and Amazon (AMZN), with the Digital Markets Act, a new set of regulations that aims to rein in some of the business activities of those companies in Europe.
Apple (AAPL) also filed an appeal to a ruling that it violated an unfair competition law in California, and by the end of the week, Apple (AAPL) was reported to be offering stock bonuses of as much as $200,000 per person in an effort to keep select engineers from jumping to competitors. And in Asia, Apple (AAPL) supplier Foxconn was said to be back up to normal operations at it product manufacturing plants following Covid-related shutdowns and disruptions.
File this one under things that would have been thought impossible…Uber (UBER) reported has worked out a deal to include New York City taxis as a ride-hailing option starting this spring. The arrangement is set to include all 14,000 taxis in use in New York.
Chinese tech stocks kept investors on edge all week with erratic stock market action. Earlier in the week, the likes of Alibaba (BABA) and JD.com (JD) surged, but much of the sector then retreated as U.S. officials said speculation about a deal that would keep dozens of Chinese companies from de-listing their shares from American markets was "premature."
One of the more-notable Chinese companies, Tecent Holdings (OTCPK:TCEHY), saw its shares take a hit after it posted its slowest quarterly sales growth since going public in 2004.
In semiconductors, analysts at Bank of America brought a new acronym to the world with MANGO–meant to mean Marvell Technology (MRVL), Advanced Micro Devices (AMD), Analog Devices (ADI), Broadcom (AVGO), Nvidia (NASDAQ:NVDA), GlobalFoundries (GFS) and On Semi (ON)–to represent what they see as some of the best-positioned companies in the chip sector.
Citi analyst Christopher Danely said Micron Technology (MU) is seeing stability and strong prices in the DRAM memory chip market ahead of the company's second-quarter results, which are set to be released on March 29.
Nvidia (NVDA) Chief Executive Jensen Huang unveiled a slate of new products at the company's annual GTC conference, and also called Arm Holdings "a one-of-a-kind asset" despite Nvidia (NVDA) recently dropping its efforts to acquire the British chip-technology company.
Speaking of Arm, the chip company's owner, SoftBank (OTCPK:SFTBF) is reported leaning toward picking Goldman Sachs as the lead underwriter for Arm's eventual IPO, which will reportedly value the company at as much as $60 billion.
Google said it will begin letting app developers use their own billing systems for apps sold through the Google Play store. The pilot program is set to begin with a multi-year agreement with Spotify (SPOT).