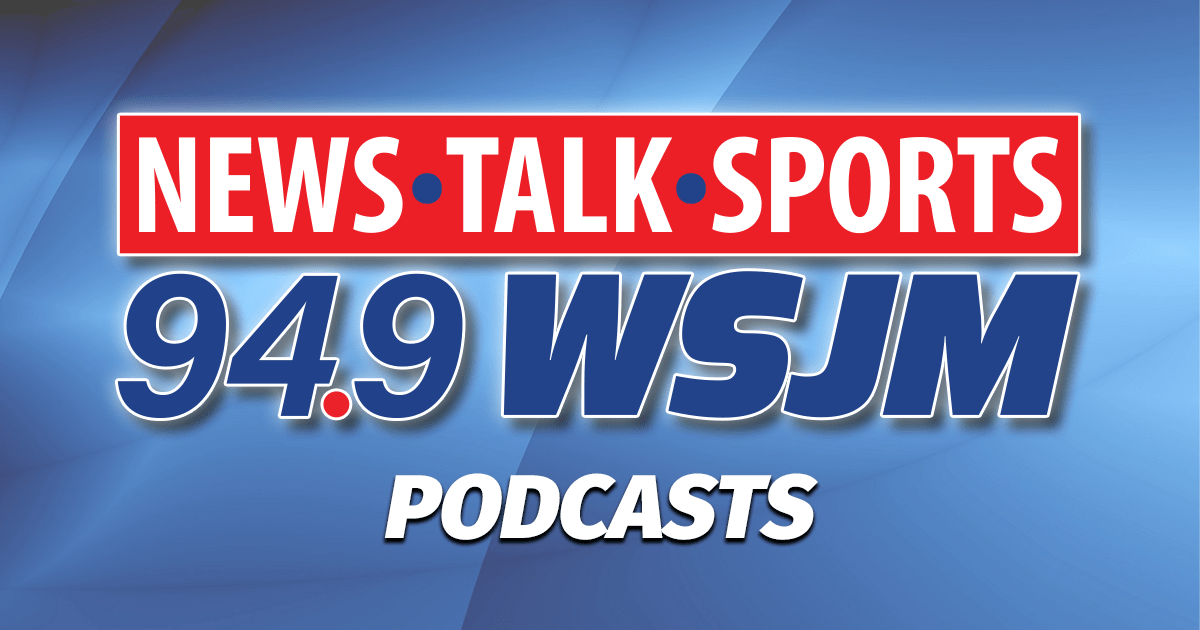 WSJM Sports December 17, 2021
NFL
Last night
Kansas City Chiefs 34, Los Angeles Chargers 28, OT
Saturday
Las Vegas Raiders @ Cleveland Browns 4:30 pm
New England Patriots @ Indianapolis Colts 8:20 pm
Sunday
Arizona Cardinals @ Detroit Lions 1 pm – Rock 107 WIRX
Carolina Panthers @ Buffalo Bills, 1 pm
Dallas Cowboys @ New York Giants, 1 pm
Houston Texans @ Jacksonville Jaguars, 1 pm
New York Jets @ Miami Dolphins, 1 pm
Tennessee Titans @ Pittsburgh Steelers, 1 pm
Washington @ Philadelphia Eagles, 1 pm
Atlanta Falcons @ San Francisco 49ers, 4:05 pm
Cincinnati Bengals @ Denver Broncos, 4:05 pm
Green Bay Packers @ Baltimore Ravens, 4:25 pm
Seattle Seahawks @ Los Angeles Rams, 4:25 pm
New Orleans Saints @ Tampa Bay Buccaneers, 8:20 pm
Monday
Minnesota Vikings @ Chicago Bears 8:15 pm
Chiefs Top Chargers In OT
The Kansas City Chiefs are closer to another AFC West title after outlasting the Los Angeles Chargers in overtime. Travis Kelce scored on a 34-yard pass from Patrick Mahomes in OT to send the Chiefs past the Chargers, 34-28. Kelce caught a tying 7-yard touchdown pass with 1:16 left in the fourth quarter, then ended the game with his catch-and-run in overtime. Justin Herbert gave the Chargers a 28-21 lead with 2:19 remaining on a 8-yard TD pass to Keenan Allen. Mahomes finished 31 of 47 for a season-high 410 yards with three touchdowns and an interception. Kelce had 10 receptions for a career-best 191 yards and two touchdowns.
NFL Updates Protocols In Response To COVID-19 Cases
The NFL has updated its protocols in reaction to an increase in COVID-19 cases around the league, and it is pushing booster shots as the most effective protection against the coronavirus. As part of its protocol changes, the NFL is requiring masks regardless of vaccination status, and remote or outdoor meetings. It also is stopping in-person meals and prohibiting outside visitors while on team travel. Chief medical officer Allen Sills cited the omicron strain for the uptick in positive tests. The league is also making some changes to its protocols that would allow vaccinated players who test positive to return sooner. Approximately 100 NFL players across the 32 teams have tested positive this week.
NBA
Last night
Indiana Pacers 122, Detroit Pistons 113
Chicago Bulls @ Toronto Raptors – POSTPONED
Pistons Lose 13th Straight
Caris LeVert scored 20 of his 31 points in the first half and was 12 of 18 from the field as the Pacers sent the Pistons to their 13th straight loss, 122-113. Justin Holiday added 17 points for Indiana, which shot 50% in taking a 70-64 halftime lead. Saddiq Bey led the Pistons with 28 points and 10 rebounds, while first overall pick Cade Cunningham added 19 points for Detroit.
NHL
Last night
Carolina Hurricanes 5, Detroit Red Wings 3
Tonight
Nashville Predators @ Chicago Blackhawks 8:30 pm
Red Wings Fall To Hurricanes
Nino Niederreiter's second goal of the night broke a third-period tie in the Hurricanes' 5-3 victory over the Red Wings. Niederreiter snapped a 3-3 deadlock 18 seconds into the final period to lead the short-handed Hurricanes. Carolina was without team scoring leader Sebastian Aho, second-leading scorer Andrei Svechnikov, captain Jordan Staal, Ian Cole, Seth Jarvis and Steven Lorentz due to COVID-19 protocol.
NCAA Football
MSU Loses Walker
Michigan State All-American running back Kenneth Walker is skipping the Peach Bowl and his senior season to enter the NFL draft. Walker made the announcement on social media yesterday. He was named Big Ten Running Back of the Year and picked up the Walter Camp and Doak Walker awards.
High school basketball
Boys
Last night
Decatur 58, Bloomingdale 42
Loy Norrix 50, Portage Northern 44
Portage Central 55, Mattawan 45
Gull Lake 78, Kalamazoo Central 75, OT
Girls
Last night
Benton Harbor 41, Lake Michigan Catholic 33
Bloomingdale 50, Decatur 22
Bridgman 38, River Valley 20
Kalamazoo Central 59, Gull Lake 35
Lawrence 32, Marcellus Howardsville Christian 30
Otsego 72, Vicksburg 46
Sturgis 33, Dowagiac 28, OT
Boys
Tonight
Covert @ Michigan Lutheran
Howardsville Christian @ Lawrence
Buchanan @ South Haven
Coloma @ Constantine
Berrien Springs @ Brandywine
Plainwell @ Paw Paw
Allegan @ Niles
Three Rivers @ Edwardsburg
Countryside Academy @ New Buffalo
Hartford @ Bangor
Comstock @ Cassopolis
Marcellus @ Mendon
Saugatuck @ Lawton
Gobles @ Watervliet
Galesburg Augusta @ Schoolcraft
Kalamazoo Christian @ Delton Kellogg
Martin @ Fennville
Parchment @ Hackett
Girls
Tonight
St. Joseph @ Lakeshore
Buchanan @ South Haven
Hartford @ Bangor
Coloma @ Constantine
Berrien Springs @ Brandywine
Comstock @ Cassopolis
Marcellus @ Mendon
Saugatuck @ Lawton
Gobles @ Watervliet
Martin @ Fennville
Galesburg Augusta @ Schoolcraft
Kalamazoo Christian @ Delton Kellogg
Three Rivers @ Edwardsburg
Plainwell @ Paw Paw
Allegan @ Niles
Mattawan @ Portage Central
Loy Norrix @ Portage Northern
Podcast: Play in new window | Download (Duration: 1:31 — 1.4MB) | Embed
Subscribe: Apple Podcasts | Spotify | Stitcher | Email | RSS | More